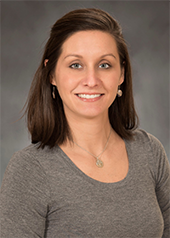 Jennifer Fisher
Executive Aide
Department of Biostatistics and Epidemiology

Contact:
---
I am new to the College of Public Health and Department of Biostatistics and Epidemiology as of October, 2017. Originally from Central Virginia, I moved to East Tennessee in order to attend ETSU as a student in 2003. I currently hold 2 degrees, both achieved at ETSU: a Bachelor of Science in Business Management, and a Masters of Arts of Teaching, 4-8 middle grades.
Most recently, I have explored the world of public education as an 8th grade English/Language Arts and American History teacher in an 8th grade classroom in the Washington County system. Prior to my education degree, I held positions in management varying from Office Manager within an International Realty company to Front of House Restaurant Management. I have a versed background in creating and maintaining of company websites, database collection and analyzation, scheduling and allocating funds for specific events, and traveling as promotional company representative.
Interests:
In my non-working time, I enjoy extended time with my family and children, traveling to experience different culture and foods, and exploring and attending the spectrum of variety in festivals and anything outdoorsy.