Coach: Ms. Ryann Williams, email Ryannawilliams15@yahoo.com

Manager: Ms. Lois Oiler, emailoilermom1@gmail.com
---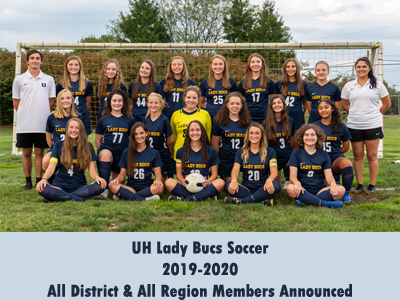 Congratulations to members of our 2019-2020 Lady Bucs Soccer team who made the All-District and All Region teams! Also, big congratulations to Coach Ryann Williams, Coach of the Year!

All-District team

Offensive Player of the Year - Makenna Oiler
Offensive Rookie of the Year - Carmen Ellis
Coach of the Year - Ryann Williams

1st team all-district

Makenna Oiler
Olivia Hare
Claudia Saucier
Grace Moreland
Aubrey Davidson

2nd team all-district

Carmen Ellis
Blake Johnson

All-Region team

Makenna Oiler
Carmen Ellis
Claudia Saucier

Way to go, Bucs!


---
Tonight (Tuesday, October 22nd), our Lady Bucs Soccer Team travels for Region Tournament play. They will take on Alcoa at 6:30 p.m.
Good luck to our 2019 Lady Bucs Soccer team: Amia Dixon, Aubrey Davidson, Avery Hurley, Blake Johnson, Carmen Ellis, Clara Lipscomb, Claudia Saucier, Elisa Cruz-Hernandez, Ella Barnett, Ella Dunkelberger, Ellie Ledbetter, Faith Harrison, Grace Moreland, Lauren Lehrfield, Lena Allison, Makenna Oiler, Morgan Rogers, Olivia Ares, Olivia Hare, Ruth Toah, and Shannon Willard! Go Bucs, Go!
Update: Our Lady Bucs played tough, but, fell short. The following article was printed in the Johnson City Press:
Regional tournament roundup
Bearden downs Dobyns-Bennett in 1-AAA semifinal
Jeff Birchfield • Updated Yesterday at 9:17 PM
jbirchfield@johnsoncitypress.com
.....
Alcoa 4, University High 1
ALCOA — Carmen Ellis scored an unassisted goal in the fifth minute to give the Lady Bucs the early lead before the Lady Tornadoes stormed back in the Region 1-A semifinal.
Ellie Ledbetter had the other shot for the Lady Bucs, who were in a defensive mode much of the night. Goalkeeper Shannon Willard had 15 saves, while Blake Johnson, Morgan Rogers, Claudia Saucier and Aubrey Davidson had big efforts as defenders. Makenna Oiler, Olivia Hare and Lena Allison kept it together in the center.
"They were resilient; they did not quit until the final whistle," University High coach Ryann Williams said. "I'm very proud of all the hard work they put in. We had a lot of growth over the season. I'm altogether proud of them and excited to see how the returning girls do next year."
.....
---
This Thursday (October 17th) our Lady Bucs Soccer team will face Chuckey Doak in the District Championship game at Winged Deer Park, at 7:00 p.m. The two teams have met twice this season and both games ended in a tie. Come support your Lady Bucs on Thursday as they battle it out. Go, Bucs, Go!
-----------------------------------------------------------------------
The following article from last week's game was printed in the Johnson City Press:

High school girls soccer
Central blanks University High in regular-season finale
Jeff Birchfield • Oct 10, 2019 at 9:56 PM
jbirchfield@johnsoncitypress.com

Sullivan Central kept up the pressure to end the regular season on a winning note Thursday night.

After multiple scoring opportunities, Noemi Morales finally broke through with a hard strike in the 60th minute to lift the Lady Cougars to a 2-0 win over University High in non-conference girls soccer action at Winged Deer Park.

For the contest, the Lady Cougars (6-7) outshot the Lady Bucs 20-7, recording a 9-1 advantage in the first half.
Stay informed. Sign up for daily email newsletters

Five minutes after the first goal, Gracie Harrington had a perfectly placed ball to Loren Hensley, who gave a nice boot with her left foot for the second score.

"We have really been struggling offensively. We played Sullivan South Tuesday and lost 2-0 despite the way we outshot them," Central coach Emily Robinette said. "Finally putting those two goals in, I think it will give us the confidence we need going into the postseason.

"That second goal, Gracie has never played soccer before, but she has had several great passes this year. I put her in and she got the job done. She passed it to Lauren who finished it for us."

It was a frustrating night for University High coach Ryann Williams after her team ended the regular season on a sour note. The Lady Bucs (10-3-3) missed some good scoring opportunities late. Makenna Oiler's penalty kick went wide left. Carmen Ellis had a corner kick stay outside the net and another shot went over the goal.

Ellis led the Lady Bucs with three shots, followed by Oiler with two shots. Still, it was an uncharacteristic performance from a team that had been shut out only one other time this season.

"Mentally, we were groggy and we weren't there," Williams said. "I was very frustrated because to lose and play well, I'm OK with that. To go out there, not play our game and not be focused, that's where my disappointment comes from. We didn't rise to the effort of our competitors."

One bright spot for University High was the play of goalkeeper Shannon Willard, who finished with over a dozen saves.

"Our goalkeeper was like a phoenix rising from the ashes," Williams said. "She fought and kept us in it. I told the girls they should thank her because she's the reason we stuck in there as long as we did."

Morales paced Central with five shots and Rylie Patrick had four. The Lady Cougars missed two close calls in the first half when Emma Niebruegge's shot hit the crossbar and Hensley couldn't slip one into the corner of the goal.

It was a relief for Morales to break through with the first goal.

"The first half, we hustled so hard and it was devastating to see that we didn't score," she said. "The second half, we stuck together and we finally put a couple in. I was kind of frustrated that our shots weren't going in, but their goalie played amazing. Once we put that one in, it felt amazing."

NEXT UP

Sullivan Central will host Unicoi County in the first round of the District 1-AA tournament on Monday. University High takes on the winner of Chuckey-Doak and West Greene next Thursday in the District 1-A tournament.
---
UH Bucs' Press Articles Published During Fall Break from the Johnson City Press:

Girls high school soccer
University High girls hang on against South
Jeff Birchfield • Oct 3, 2019 at 9:34 PM
jbirchfield@johnsoncitypress.com

University High girls soccer coach Ryann Williams warned her team at halftime of Thursday night's match against Sullivan South. Her words rang true in the second half.

After the Lady Bucs were only able to take advantage of one scoring opportunity in the first half, Williams told her team they would have to fight until the end against the Lady Rebels. It certainly was the case as the Lady Bucs held on for a 1-0 hard-fought win at ETSU's Summers-Taylor Stadium.

"I'm proud of how they held on, however, we didn't play our game tonight," Williams said. "Our minds weren't in the game in the beginning and we had to fight to hold on. I'm proud they didn't give up and were very resilient, but we've got to show up."
Stay informed. Sign up for daily email newsletters

Makenna Oiler provided the lone goal of the match, a 20-yard angling kick beyond the right side of the box in the 13th minute. Ironically, the goal was more about feel and the trust in a teammate than aiming for the back of the net.

"I was a little outside the top of the 18 (yard box)," Oiler said. "Actually, I couldn't see anything. Olivia Hare told me, 'Take the shot.' So, I beat the player and hit it and it went right in."

It was one of a team-high five shot attempts for Oiler on Senior Night. University High enjoyed a 16-11 advantage in shot attempts, although had a 7-1 advantage early in the match. Oiler said the Bucs struggled on ETSU's field, which is wider than the Winged Deer Park field where they normally play.

South also struggled at times on the larger field. The Lady Rebels missed two close calls to tie on penalty kicks. Emily Maxwell's shot in the 25th minute bounced hard off the crossbar and late in the second half, a save by Lady Bucs' goalkeeper Shannon Willard denied Mattie Topping's hard boot.

The Lady Rebels (4-8) stayed on the attack late as Cari Creech ended the match with five shot attempts and Sydney Ferrando had three. Tristen Mintz and Skylar Mittelsteadt had near misses in the closing minutes.

"We made a lot of progress in our attack," South coach Luci Creech said. "We are down four players with concussions and illness. These girls played hard all night long and worked their tails off. We've improved a lot. We played them in early August and didn't fare as well."

University High, which won the team's first meeting 9-2, was the early aggressor as Hare booted four shots and Grace Moreland took three. Carmen Ellis had two shots. It was the defense with senior Claudia Saucier leading the way on the back end and the freshman Willard in goal, which preserved the victory in the end.

"It was challenging, but my defense helped me," Willard said. "They wanted to score and we had to stop them. One time back there, I dove and missed the ball. It was an open shot, but my defense blocked it. There was a good 10 seconds of trying to clear it."

University High finishes off the regular season with a home match against Sullivan Central next Thursday. Sullivan South plays at Central on Tuesday.
---
Lady Bucs Soccer Victory! The following article was printed in the Johnson City Press:

High school girls soccer
Oiler leads University High romp over West Greene
Jeff Birchfield • Updated Sep 24, 2019 at 9:52 PM
jbirchfield@johnsoncitypress.com

Makenna Oiler had a hat trick to lead University High to a 10-1 shellacking of West Greene on Tuesday night at Winged Deer Park.

Carmen Ellis and Grace Moreland each added two goals as the Lady Bucs (9-1-3) made quick work of the Lady Buffaloes (1-9) in the girls' soccer match which ended midway through the second half due to the mercy rule.

"It was fun to come out here with everyone and score like that," Oiler said after finishing with three goals and an assist. "It doesn't happen that often. When you get the opportunity, you have to take it."
Stay informed. Sign up for daily email newsletters

Oiler scored the first match on a penalty kick before Ellis put them up 2-0. Oiler scored the next two goals and the Bucs were well on their way at that point, racing out to a 7-0 lead at the half. University High successfully controlled possession of the ball, keeping the action on their half of the field and holding a 28-3 advantage in shot attempts.

"We focus on playing our game and getting better no matter who we're playing," University High coach Ryann Williams said. "We focused on possession the ball and our intensity. Beside the intensity of play, they were looking up and finding feet with the 1-2 passing to each other. We were trying to get down the field in one to two passes and they did really well with that."

Olivia Hare and Moreland provided the other first-half goals. Clara Lipscomb scored on a corner kick to make it an 8-0 lead in the second half. West Greene finally got on the scoreboard when Chelsea Stokley broke free and powered in a kick from a left angle outside the box.

Amia Dixon responded with a goal to put the Bucs back up by eight before Moreland closed out the match with a straight-ahead boot.

"I feel like once we get a goal in, everybody gets excited and we all start working a little harder," Moreland said. "I think we did really well keeping possession and communicating. We do really well in the middle where it doesn't have to get to the defense."

Lena Allison, Ella Barnett, Hare and Oiler had assists. Both Williams and Oiler commented on how Hare and Oiler took advantage of the scoring opportunities after Moreland serviced the ball into them.

"Olivia and I were playing well off each other," Oiler said. "We're good friends and we have that chemistry when we play. It comes so natural I barely have to pick my head up to know where she's going to be at. We're able to communicate without each saying much and we used that to our advantage."

University High will return to action Thursday at Sevier County. West Greene goes on the road to Cosby.
---
The Lady Bucs Girls Soccer team came up with a 3-3 tie against Morristown East on Tuesday night (September 10th). Olivia Hare scored 2 goals and Makenna Oiler had 1 goal and 2 assists in the game. Overall, the Lady Bucs had 15 additional shots on goal.

Their next game is at home on Thursday night against conference rival Chuckey Doak at 6:30 p.m., at Winged Deer park.
---
Congratulations to our Lady Bucs Soccer Team for recent victories!

On Wednesday, September 4th, the Lady Bucs Soccer Team defeated Volunteer, 2-1. Olivia Hare and Carmen Ellis scored for the Bucs. View Press Release on WJHL Website

On Monday, September 9th, the Lady Bucs won against the Lady Buffaloes of West Greene High School with a mercy rule of 9-0 with 20 minutes left in the 2nd half. Makenna Oiler had a hat trick (3 goals) and 1 assist. Ella Barnett had 2 goals. Carmen Ellis, Amia Dixon, Grace Moreland and Clara Lipscomb each had one goal. Grace Moreland, Carmen Ellis, Faith Harrison, Amia Dixon and Clara Lipscomb each had an assist. Photos of the game can be viewed on the Lady Bucs Soccer Team Facebook page.


This brings the Lady Bucs record to 8-1-1 for the season. The best starting record in school history. They take on Morristown East on Tuesday night in Morristown at 6:30.
---
Lady Bucs Soccer News:

Tonight's (Tuesday, August 27th) and Monday's (September 2nd) girls' soccer game will be cancelled.

-----------------------------------------------------------------------
August 26th: The Lady Bucs soccer team defeated Daniel Boone HS 4-1 last night. Carmen Ellis & Makenna Oiler each had 2 goals. Bucs keeper, Shannon Willard, had 11 saves. The midfield and back line also put in hard work to help seal our win. The Bucs game vs. Crockett originally scheduled for tonight (Tuesday, August 27th), has been moved to Thursday, August 29th, at Winged Deer at 6:30 p.m. Come support your Lady Bucs on Thursday!





-----------------------------------------------------------------------


Lady Bucs Soccer News

2019 Fall Smoky Mountain Cup, Pigeon Forge, TN

The UH Lady Bucs swept their pool in Pigeon Forge this weekend scoring 22 goals in 3 games and giving up only 3 to bring home medals.

They defeated Northview Academy 7-0, East Robinson High School 6-1, and took down Sullivan South 9-2.

Weekend goals scored:

Carmen Ellis- 9

Makenna Oiler- 5

Grace Moreland- 4

Amia Dixon- 2

Olivia Hare- 1

Ellie Ledbetter – 1

Weekend assists:

Makena Oiler- 3

Ruth Toah- 1

Faith Harrison- 1

Ella Dunkelberger -1