University Advancement
East Tennessee State University
Contact Us
University Advancement
Pamela Ritter
Vice President of University Advancement
Pam came to ETSU from Purdue University in West Lafayette, Indiana, where she spent 27 years as a senior-level fundraiser working in major gifts, corporate relations, alumni relations, and administration. As senior director of Purdue's Office of Corporate Relations from 2004-09, Pam managed offices in West Lafayette, Chicago, and Indianapolis and led effort to raise $450 million of the successful $1.7 billion "Campaign for Purdue" project. In addition, her team raised an average of $30 million in gifts and $20 million in in-kind gifts per year, for the past 11 years. Her duties also included developing long-range strategic plans and assisting university-wide programs with fundraising activities. Pam joined Purdue in 1987 and held such titles as director of Class Gifts and Director of Development for the College of Technology before moving into corporate relations. Pam holds a B.S. degree in health education from Western Michigan University and an M.S. in health administration from Purdue. She is a member of the Network of Academic Corporate Relations Officers, the Council for Advancement and Support of Education and the Association of Fundraising Professionals. Prior to working in fundraising, Pam spent four years as a school teacher in Indiana and was a district representative for the American Cancer Society.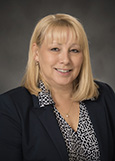 Denise Asbury

Director of Development, College of Arts & Sciences
Denise is a 1986 Mass Communications graduate of Emory & Henry College, who began working at ETSU in October 2018. She worked in advertising & marketing in Bristol, VA for 8 1/2 years before beginning her career in higher education in Advancement, which has spanned the last 21 years. She lives in Abingdon with husband Allen and they have two children, Ryan who just completed his MBA at King University and works in Bristol TN, and Kayla who is a junior at Abingdon High School. Completing the family are Molly the dog and Mia the cat. Denise is excited to support students and programs in the College of Arts & Sciences through her role as a Development Officer and is looking forward to getting to know students, faculty, staff, and alumni.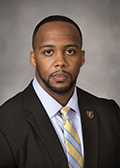 JaVonte' Ashford
Director of Development, College of Business and Technology
JaVonte' joined the ETSU Advancement team in June of 2019. The Roanoke, VA native first came to East Tennessee to attend King University where he earned a BA in Online Media and Marketing and was a member of the Men's Wrestling team. He later earned his MAED in Higher Education Administration from McKendree University in Illinois. JaVonte' has served in multiple roles in Higher Education throughout his career that includes several years in Enrollment and Athletics at King University and another three years in Athletics and Advising at Emmanuel College in Royston, Ga. He is currently serving as the Director of Development for the College of Business and Technology.
Originally from Ohio, Mitzi moved to East Tennessee in 2001 where she began her ETSU work career. In 2013, she completed her Bachelor of Science degree with a minor in Business and a concentration in Accounting. She then moved to Prescott, Arizona where she continued to work in academia and study, receiving an MBA from Grand Canyon University in January 2016. Mitzi returned to East Tennessee to be near family and friends in February 2016 and was assigned as Office Manager for University Advancement on March 1, 2016. Her responsibilities include coordinating administrative services for University Advancement and providing direct executive support to the Vice President for Advancement.
Nicole joined the University Advancement team in August 2015 to process gifts and make biographical database updates. In July of 2017, she was promoted to Technology Coordinator. In this position, Nicole supplies the division with reports and mailing lists and handles numerous technical projects. She also assists with prospect research and Advancement Services training. Nicole earned her Bachelor of Business Administration degree in May 2014, majoring in Accounting and is currently working on a degree in Information Science at ETSU.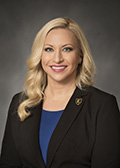 Dessi Foster '00
Director of Development, Student Life and Enrollment & Roan Scholars
Dessi is a native of ETSU and joined the Advancement team in January 2019. She earned her Bachelor of Business Administration degree from ETSU in December of 2000, majoring in Marketing. For 19 years she led a team of Sales Consultants as a Senior Sales Director for Mary Kay Cosmetics, ranking in the top 2% of the company and earning 11 free cars including 3 Pink Cadillacs. In 2015 she moved into non-profit fundraising as the Director of Development for SteppenStone Youth Treatment Services in Limestone, TN. There she was instrumental in developing and implementing a comprehensive fundraising program for the organization. Dessi lives in Blountville with her husband Josh. She has a daughter who is a student at Samford University majoring in Musical Theatre. She also has two step-children (Chandler and Hayley) who love sports. She enjoys spending her time at home with the family watching TV, relaxing, and playing with her 4 dogs. She also has been a group fitness instructor for 21 years and currently teaches a dance fitness class at Lifestyle Fitness Center in Johnson City.
Tyler Gaby
Assistant Director of Annual Giving
Tyler is a native of East Tennessee and joined the ETSU University Advancement team in March 2017. He graduated from King University with a B.S. in Biology and a minor in Chemistry in 2014. Prior to this position, Tyler served King University for 3 years as an Admissions Counselor. In his current role, he analyzes and manages financial reports and scholarship processes, oversees the cultivation and stewardship of donors as well as serves as the project manager on direct mail, e-mail, social media, and leadership annual giving appeals.
Anne Godfrey
Director of Development, College of Nursing and College of Clinical & Rehabilitative Health Sciences
A Richmond, VA native, Anne obtained a B.S. degree in Human and Organizational Development from Vanderbilt University. In Richmond, Anne worked in annual giving, responsible for raising over a million dollars annually for an independent K-12 girls' school, where she broke the school record three times for most money raised in annual giving, with record high percentages of both alumnae and parent giving. After relocating to Johnson City in 2008, Anne led the parent-teacher associations for Indian Trail Middle School and Science Hill High School, where she developed and ran a student leadership program with the school's principal. Anne also served on the board of the Friends of the Johnson City Public Library and volunteered with the youth program at Munsey United Methodist Church. She joined Mountain States Health Alliance in February 2016 in the Marketing and Communications Department, ultimately coordinating system-wide events for Ballad Health as well as events and tours for Niswonger Children's Hospital. Anne and her husband, Jim, have three college-aged children and a German Shorthaired Pointer, and enjoy hiking and traveling.
Cody Greene


Prospect Research Analyst
Cody joined ETSU in September 2016 after serving as Director of Advancement Services at Tusculum College. A native of North Georgia, he attended Tusculum College and graduated in 2008 with a degree in business administration. He also obtained an MBA from Milligan College in 2011. Cody lives in Greeneville, TN with his wife Cierra.
Kathy began working for ETSU in 2015. She joined the University Advancement team in 2017 as a gift processor. Kathy lives in Kingsport, Tennessee with her husband, Shaun, and their daughter, Elizabeth.
Sherri Harvey began working for ETSU in 2014 and joined the University Advancement team in September 2016. Her current job duties include gift processing and data management. She and her husband (Marty in ETSU Central Receiving) have one son, Jonathan.
Donald earned his B.S. degree in 1992 from ETSU in Mathematics, with a minor in Computer Science, and worked for nearly three years in the Quillen College of Medicine's Office of Academic Affairs before moving to University Advancement in September 1996. His primary duties include reporting from the Banner Advancement database, compiling reports using data from multiple sources (such as the annual Voluntary Support of Education survey), and providing technical training and support to other Advancement employees. Donald is a member of the Association for Advancement Services Professionals (AASP). He and his wife Leigh Anne Harvill, a 1994 ETSU graduate, have two children, Gracelyn (16) and Jackson (8). Donald is an Eagle Scout and a den leader in Cub Scout Pack 25 in Johnson City.


Betsy Kearney
Director of Budget Development
Before coming to ETSU, Betsy was finance director for General Dynamics Information Technology. She holds an M.B.A. from Meredith College.
John King

'88
Associate Vice President of University Advancement
John is a native of Erwin, Tennessee and earned a B.S. degree in Mass Communications from ETSU in 1988, where he was also a member of the men's varsity basketball team. He joined the University Advancement team at ETSU in March 2017 after spending 11 ½ years working in senior-level fundraising and alumni relations at King University in Bristol, Tennessee, serving as Vice President for Development and a member of the President's Cabinet. John was responsible for overseeing the entire fundraising, alumni relations, and career center operations for the University, and worked with the Board of Trustees and President to develop long-range fundraising strategies to benefit the school. At ETSU, he works with the directors of development to assist in maximizing their efforts to secure major gifts that benefit the various schools, programs, and the University as a whole. He also serves as a member of the University Advancement Leadership Team, and serves as the development officer for the Bill Gatton College of Pharmacy.. John is married to Keyla Torbett King, a 1989 graduate of the ETSU Dental Hygiene program, and they have two adult children.
Robert (Bob) A. Lange, ChFC, CAP
Executive Director of Planned Giving
Bob came to ETSU after 20 years of senior-level advanced gift planning positions in Wisconsin. He's a graduate of the University of Wisconsin-Oshkosh with a B.S. degree in Sociology/Psychology. As a Chartered Financial Consultant, Bob worked with small- and medium-sized business owners to structure estate and business transition plans to benefit the current and succeeding generations for 20+ years. Conducting over 15,000 one-on-one interviews he has had the opportunity to work with other estate planning professionals while reviewing 2000+ documents including wills, trusts, buy-sell agreements, and financial statements. In addition to individual meetings, Bob has conducted more than 300 seminars on estate and charitable gift planning for individuals, nonprofit staffs, and estate planning professionals. In an effort to give back, Bob entered the nonprofit industry in 1996 as a planned giving director and soon gained a regional and national reputation for his experience and vision for charitable gift planning. Asked to serve on the board of the National Committee on Planned Giving (now the National Association of Charitable Gift Planners) he traveled the country and provided seminars to local chapters of the national organization on charitable gift planning and the Leave-A-Legacy program. Bob has been responsible for helping to establish more than $150 million in charitable gifts ranging from outright gifts to charitable remainder and lead trusts, gift annuities, life insurance, private foundation rollovers, and supporting organizations. In 2013 Bob was awarded the Chartered Advisor in Philanthropy (CAP) designation from the American College. This designation recognizes the completion of graduate-level courses in advanced charitable gift planning with a focus on high net worth individuals and family dynamics. Bob was recently selected to serve on the Leadership Institute of the National Association of Charitable Gift Planners.
Peggy McCurry '80
Financial Management Analyst
Peggy monitors and manages the budget function to ensure compliance with university procedures and accounting standards. Peggy joined University Advancement in 2001 after several years of professional experience with a regional private accounting firm and in other private sector capacities as well. Peggy earned the status of Certified Professional Secretary in 2009 from the International Association of Administrative Professionals. She has a bachelor's degree from Milligan College and a master's degree from ETSU.
Rebecca Muncy
Director of Development, College of Business and Technology
Rebecca joined the ETSU University Advancement team in June 2018. An East Tennessee native, Rebecca attended Tusculum College and completed a B.A. in Political Science, and was also a member of the women's tennis team. Immediately after graduating Tusculum, Rebecca joined the Tusculum College Office of Institutional Advancement and served for 5 years as the Associate Director of Alumni and Parent Relations. For the next five years, Rebecca taught Government and World History at two local high schools, also serving as a women's basketball coach. During her tenure teaching, Rebecca completed her M.A. in Educational Theory and Practice from Arkansas State University. Rebecca most recently comes from working at Laughlin Health Care Foundation in Greeneville. Rebecca enjoys spending time with her family and friends, everything sports, and enjoying her home in Afton, TN with her rescue pup, Ziva Mae.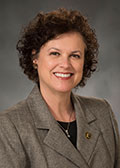 Mona Salyer
Director of Development, Quillen College of Medicine
Mona came to ETSU in August 2019 from King University, Bristol, Tennessee where she worked for over 14 years in Enrollment Management, focusing on business development and expanding the recruitment footprint throughout Southwest Virginia and East Tennessee. She has been active in several regional chambers of commerce and served as a past president and vice president of the Kingsport chapter of Business Network International. Mona currently serves on the Accountable Care Community to promote improved health in our region. Prior to higher education, Mona worked in banking and public schools. She earned her bachelor of science degree in business with a major in finance from Virginia Tech. Mona and her husband, Mark, live in Bristol and have three adult children and three grandchildren. She and Mark enjoy camping, hiking and traveling.
Aaron Scott
Director of Development, College of Public Health
Aaron was born and raised in Cleveland, Ohio. He first came to East Tennessee to attend Milligan College, where he earned a BA in History and received his teaching certification. After teaching five years of middle school Social Studies, Aaron began his career in fundraising and non-profit administration. He first served as an Administrative Assistant for the Reba Place Development Corporation, a faith-based affordable housing ministry in Evanston, Illinois. Since relocating back to east Tennessee, Aaron worked as the Development Communications Coordinator for Emmanuel Christian Seminary and later, as the Development Manager for Family Promise of Greater Johnson City, a faith-based non-profit that assists homeless families with children. Before joining University Advancement at ETSU in May 2016 as the Director of Development for the Colleges of Pharmacy and Public Health, Aaron served in the Academic Technology Support office at ETSU. An ETSU alum, Aaron completed a Master Degree in Public Administration with a Non-Profit Management concentration in 2018. A husband and father of three children, Aaron enjoys spending time with his family, participating in church activities and ministries, and watching and playing sports.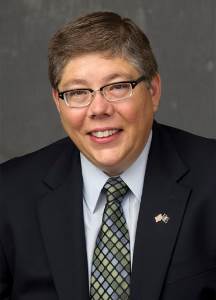 Jon See


Executive Director of Annual Giving
Jon See is the Executive Director for Annual Giving at East Tennessee State University, arriving in November 2015. In this capacity, Jon is responsible for acquiring, upgrading, and renewing contributors to the University. Retired from the U.S. Air Force since 2003, Jon worked at Purdue University since 1997, working in Air Force Reserve Officer Training Corps (ROTC), Information Technology, the College of Engineering, and in Corporate Relations. Jon is a graduate of the Community College of the Air Force and Concordia University—Wisconsin. He has a 20-year-old son named Tyler and a dog named Odie.
Carol Sloan
Director of Development and Alumni Affairs, Quillen College of Medicine
Carol is a native of Fairmont, West Virginia and a 1969 graduate of Fairmont State College with a B.A. in elementary education. She spent nearly 25 years in nonprofit management, fundraising, and public relations in the local region at Volunteer Johnson City, March of Dimes, and Dawn of Hope. In November 2004, she joined ETSU as Assistant Vice President for Health Affairs with development and alumni relations responsibilities for the Division of Health affairs including the Quillen College of Medicine and the Colleges of Nursing and Public and Allied Health. In 2005, with the campaign to establish a college of pharmacy at ETSU, she served on the steering committee working to raise the funds necessary to gain approval for the new college. In July 2008, when the Division was expanded to include the Bill Gatton College of Pharmacy and the separate Colleges of Public Health and Clinical and Rehabilitative Health Sciences, Carol became the Associate Vice President for University Advancement for Health Affairs. She is a member of the Chamber of Commerce Ambassadors, the Association of Fundraising Professionals and the Association of American Medical Colleges Group on Institutional Advancement.
Karen Sullivan
Director of Development, University Advancement
Karen is originally from Wichita, Kansas. Her baccalaureate degree is in Broadcast Communications from Southern Illinois University, with a minor in Minority Studies. As a former military spouse, she has lived in many places throughout the continental United States, from New York to California. Her working career began in broadcasting, as a reporter and announcer for a local television affiliate in Wichita, continued as a Production Assistant for the pilot and first season of "20/20," and as a D.J. in Louisiana. Moving to Johnson City in 1991, her roles at ETSU have included those of Program Advisor for Multicultural Affairs; Financial Aid Counselor; and Assistant Director of Adult, Commuter, and Transfer Student Services. She has served on many university committees, has served as President of the ETSU Staff Senate. Karen is responsible for the research of donor prospects, cultivation, solicitation, and stewardship.
Ben Weakley
Director of Development, Clemmer College of Education
Ben joined the ETSU Advancement team in November 2019. He grew up in Clarksville, TN, and came to East Tennessee to attend the University of Tennessee, where he participated in the Army ROTC program and graduated in 2005 from the College Scholars Honors Program. Ben spent 14 years on active duty as an Engineer Officer in the U.S. Army with assignments in Fort Lewis; WA, Fort Leonard Wood, MO; Fort Knox, KY; the Pentagon; Iraq; and Afghanistan. Along the way, Ben earned an M.S. in Geological Engineering from Missouri University of Science and Technology and an M.S. in Science and Technology Intelligence from National Intelligence University. Ben lives in Kingsport, TN with his wife, Stefanie, his daughter, Abby, and his son, Jack. He looks forward to supporting the Clemmer College mission to improve the lives of individuals through teaching and learning, physical and mental health, and leadership.
Michael Webb
Director of Development, College of Arts and Sciences
Michael joined the ETSU family in May 2016. He is a native of Mount Airy, NC but has called East Tennessee home for over 10 years. Michael earned bachelor's degrees in Political Science and History from King University. He later earned a Masters of Arts in Intelligence Studies from American Military University. Prior to this position, Michael served King University for six years in a multitude of roles with his final position being the Director of Alumni Relations. In his current role at ETSU, Michael is responsible for all fundraising activities for the College of Arts and Sciences. Michael resides in Blountville, TN with his wife, Dr. Shauna Nefos Webb, and their dog, Teddy.
Beth Wiley
Assistant Vice President of Advancement Services
Beth came to ETSU in March of 2016 from The University of the South in Sewanee, Tennessee where she served as Director of Advancement Services for 16 years. Beth implemented numerous software systems and process improvements while supporting two comprehensive capital campaigns during her tenure at Sewanee. She likes to describe her responsibilities as encompassing "behind the scenes" support for the Advancement division. Beth has an undergraduate degree in Music Education and a Master in Business Administration degree from Shenandoah University in Winchester, Virginia. She is a member of the Association of Advancement Services Professionals and the Council for Advancement and Support of Education. Beth enjoys spending time with her husband, Paul, adult children, Kate & Jake, and her Airedale terrier. She also enjoys all forms of music and serving in various community volunteer roles.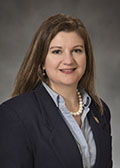 Suzanne Williams joined East Tennessee State University in October 2006. She began working in the College of Nursing and in the Gatton College of Pharmacy from July 2007 until December 2017. Suzanne completed her Associates Degree in Office Technology from Virginia Highlands Community College. Once employed at ETSU, Suzanne completed the Certified Professional Secretary exam. She brings over 20 years of Office Administration experience with her. She is very excited to have the opportunity to work in University Advancement.
Suzanne enjoys spending time with her husband, Todd and doing outdoor recreational activities, home renovation projects, and other activities with her family. She has two children, Austin, and Madison, who are both students at ETSU.
Alumni Association
Karen Crigger '90
ETSU Alumni Communications & Technology Coordinator
Karen is a 1990 graduate of ETSU with a bachelor's degree in Fine Arts with an emphasis in illustration. She began working with the ETSU Alumni staff in 2014 after working in the media for the past 20 years. Karen's main functions are updating the website, sending electronic newsletters, updating alumni records, and creating promotional material for the Alumni Office. Karen is married and has two sons, one at Austin Peay, and the other at Science Hill High School.
Lee Ann Davis '91 '09
Director of Alumni Programs
Lee Ann graduated from ETSU with a degree in Mass Communication in 1991 and in 2009 completed a Masters of Professional Studies in Strategic Leadership. As the Director of Alumni Programs, Lee Ann serves as primary contact with alumni and friends. Her primary duties include planning, promoting, and conducting alumni activities. She also cultivates volunteer leadership for alumni programs and develops new programs for ETSU alumni and students including the Alumni Mentor program, Student Recruitment activities, ETSU PRIDE, Homecoming, Affinity group reunions, Alumni recognition programs and Spring Alumni Weekend. In addition, Lee Ann works with local media to promote ETSU alumni-centric stories, helps produce promotional videos for alumni initiatives, serves as the webmaster for the alumni website www.etsualumni.org and coordinates many of the ETSU National Alumni Association's social media communication channels.
Leisa Harvey began working at ETSU in 2002 and joined the Alumni Staff as Office Coordinator in September, 2006. She holds a Bachelor of Business Administration from East Tennessee State University. Harvey's main functions as Office Coordinator are planning meetings and events facilitated by the Alumni Office Staff and managing the Office's daily budgeting activities. Harvey also facilitates fee collection and ticketing for events and the fulfillment of products available for purchase by alumni and friends. Her husband, Travis, is Maintenance Lead Worker at Shelbridge.
Cyndi Ramsey '06
Coordinator of Alumni Activities
Cyndi Ramsey joined the Alumni Staff in March, 2007. She graduated from ETSU in 2006 with a degree in Education with an emphasis in English. Cyndi's main duties include alumni event organization and support, affinity group relations engaging special interests and segments of the alumni population, assisting with alumni social media sites, student- alumni outreach including the College Tour, Real World 101 and the annual golf tournament, as well as the ETSU ambassador program which enlists alumni volunteers to represent ETSU's President at Inaugurals and Convocations, as well as other events. She first joined the office as an Information Research Technician before promotion to her current role. Cyndi has also performed and taught various forms of dance and ballet on a regular basis and danced professionally for a ballet company in North Carolina.
Caleb Tull '10,13
Assistant Director of Alumni Membership and Outreach
Caleb comes to Advancement after serving the Department of Intercollegiate Athletics as Associate Director of Game-Day Logistics for the inaugural return season of Buccaneer Football. Caleb originally joined the Alumni Staff as a Graduate Assistant in 2011, completing his MBA in 2013. Caleb's current duties are to spearhead the Grads of the Last Decade (GOLD) alumni group, the Student Alumni Association, as well as working on advertising sales for ETSU Today. Caleb also provides support to multiple ETSU events and alumni activities, growing loyalty and support for the institution.

University Foundation Accounting
Dr. B.J. King, '86, '95, '07
Foundation Chief Financial Officer and
ETSU Vice President of Finance and Administration