University School
Faculty
Testing
View University School 2021-2022 Testing Dates
=========================================================================
PSAT/NMSQT Scheduled October 13. Register Now!!
University School will offer the Pre-SAT on Wednesday, October 13th, 2021, at 8:00 a.m. for registered students. University School students will need to submit a $20 payment to the Counseling Office by October 6th. Test registration will not be allowed after October 6th. At 8:00 a.m., students will need to meet at the flagpole in front of the school to walk to the testing location for testing.



Students who are potential National Merit Scholars must take PSAT/NMSQT in the junior year to qualify. The exam will also be open to sophomores who may want to prepare for PSAT/NMSQT in the junior year. Students can find the registration link in their CANVAS Counseling Announcements.
---
ACT Test Preparation and Senior Retake Date
The ACT for seniors is tomorrow October 5! Seniors must report to the Culp Ballroom at 7:45 am tomorrow morning. You DO NOT need to check in with your first period teacher. Attendance will be taken at the Culp Center. Students with special circumstances will be contacted individually for location information. Don't forget to log in to your ACT account and complete the non-test portions of the test. Your first period teacher should have your log in information if you did not pick it up last quarter. You have up to two days after the test to complete this portion.
MASKS MUST BE WORN AT ALL TIMES DURING TESTING. BOTH ACT AND ETSU HAVE MASK MANDATES.
Please bring the following:
-approved calculator- ACT-calculator-policy.pdf
Download ACT-calculator-policy.pdf-calculators will not be provided
-number 2 pencils -mechanical pencils are not allowed
-snack,and bagged lunch or lunch money to eat at the Culp, students who need a cafeteria lunch should let me know first thing tomorrow morning
-please dress in layered clothing because the room temperature is not within our control (blankets and hats are not allowed).
-students will be expected to return to their 6th and 7th period classes
Aleeta Shaw, Ed.D.
University School
School Counselor

Seniors-
Don't forget that your free ACT Senior Retake is coming up on October 5! All seniors are required to re-take the ACT on this day.
All Seniors need to complete the MyACT non-test information for Oct. 5 exam before we head out on break. Please pick up a set of instructions and your unique ACT ID information in the Counseling Office. Students who do not have a MyACT account will not be able to receive reportable scores for the Oct. 5 exam.
ACT has created an ACT Academy for free test prep!!! If you have dual enrollment scheduled on that day, please make arrangements with your professor for your absence.
Follow this link and study hard during the break https://academy.act.org/


Free ACT Preparation Sessions For High School Juniors and Seniors


Are you ready for the ACT? Want to increase your scores? Interested in scholarships?


The ACT is one of the most important postsecondary exams a student will ever take. This comprehensive test covers a wide range of subjects that assess their mathematical skills, grammar usage, and reading comprehension.



In partnership with the Tennessee Department of Education, UT Martin is providing free, virtual workshops and classes for all Tennessee high schools students and teachers on how to be successful on the ACT.



For all Tennessee high school students:


The ACT Success Tactics Workshop, Virtual Office Hours and the Mastery Classes are open and free to all students enrolled in a Tennessee high school.




For all high school Tennessee teachers:


The ACT Workshop is offered during subsequent semesters and open to all Tennessee high school teachers to learn how to help students be successful on the ACT.




The workshops and classes are sponsored by the Tennessee Department of Education.



Click to HERE to access information for the following sessions:





ACT Success Tactics Workshop (Conducted Via Zoom)


Virtual Office Hours (Conducted Via Zoom)


ACT Mastery Classes Series (Conducted Via Zoom)


ACT Workshops for Teachers (Conducted Via Zoom)
---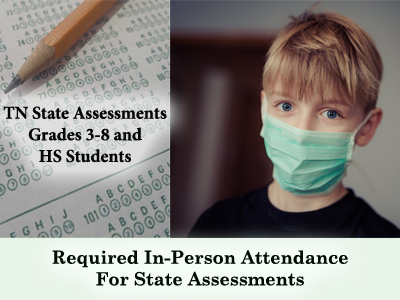 Please note that all students, including full virtual students, are expected to report in-person on their scheduled state assessments days. Testing notifications have been shared by teachers and with students on Canvas. If you have further questions, please contact the school office directly.
---
Printable Online Testing Quick Tips for Students (Navigation and Tools)
TNReady Resources
You can find assessment resources on TNReady.gov, including the following:
· Updated Frequently Asked Questions page
· Assessment overviews for each grade level (individually linked on TNReady webpage)
· Guidance on the calculator prohibited subpart for mathematics
· Testing times chart
· Parent Guide to Being TNReady
---
Civics Test
Civics Test - Required for Graduation


All students in Tennessee public schools are required to take a Civics exam and earn an 85% in order to graduate. All current seniors are required to take or re-take the Civics exam this school year because of changes in requirements. Please plan to take your civics exam and passing with an 85% by March 4.
Study Materials and the Civics exam can be found in Modules.
Civics Exam- Required for Graduation, Must earn 85%-See Dr. Shaw if you exceed 5 attempts
---
EOC Make-up Mandatory - End of Course Exams Mandatory