Seniors / Parent Information
Click to Link to Ms. Shaw's Senior Website Lots of Information!
---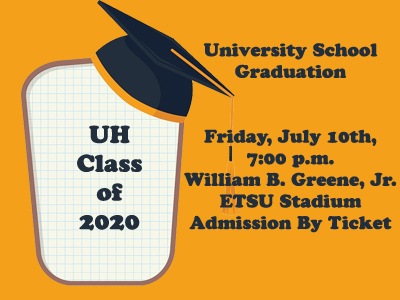 University School Graduation
July 10th at 7 P.M.
University School plans to hold a traditional in-person ceremony for our Class of 2020 graduates on Friday, July 10th at 7 p.m. in William B. Greene Jr. Stadium. The goal during our traditional graduation ceremony is to implement protocols to ensure the safety of our graduates, staff, and families. While we are excited to provide the Class of 2020 the opportunity, we do realize conditions could change quickly so we will respond should guidance from local and state authorities warrant any necessary adjustments.
Information for Graduates
Graduation practice will take place at 10 a.m. on Friday, June 10th at Greene Stadium.
Tickets are required for entry and should be picked up prior to June 10th. There will not be a Will Call for tickets, so please make sure you have your ticket prior to arriving to the stadium.
Each graduate will need to wear a cloth mask or one that is provided upon arrival at the CPA. All graduates will be required to wear the provided mask during the ceremony.
Graduates should arrive to the CPA for an individual picture and staging by 6 PM.
General Information
Gates will open at 5:30 p.m. The ceremony will begin promptly at 7 p.m.
Once inside Greene Stadium, please limit movement as much as possible.
We are asking all attendees and participants to wear personal masks.
All seating will be arranged in family groups and will be appropriately distanced from other groups. It is recommended that families arrive together and only sit in assigned seats.
We ask that everyone refrain from contact with anyone outside your family group.
Once inside Greene Stadium, please limit movement as much as possible.
Upon completion of the ceremony, everyone will be asked to leave Greene Stadium and return to their vehicles. No one will be allowed on the field after the ceremony.
Safety Precautions
Please do not attend graduation ceremonies if you have a fever or other symptoms of Covid-19, including cough, shortness of breath/difficulty breathing and/or loss of taste or smell. People with compromised immune systems should not attend the ceremony.
Masks are required for all visitors on ETSU campus and should be worn by all participants and attendees.
Every effort will be made to maintain proper social distancing before, during and after the ceremony.
Graduates will remain six feet apart at all times. This includes seating, standing in line and walking across the graduation stage.
Graduates will enter and exit the stadium using a separate entrance.
All assigned group seating in William B. Greene Jr. Stadium is separated by six feet.
Gathering on the field will not be permitted.
View Stadium Map. Admission is with tickets only and no one will be admitted without a ticket. Tickets were requested by graduates for their families/friends. Additional tickets are not available. Everyone attending graduation will need to wear a mask.
---
Dear Graduates and Families-

Below you will find a link that allows you to download the Virtual Graduation Video. This link will only be operable for a short time so please download your copy very soon.
Thanks!
Dr. Shaw

https://drive.google.com/file/d/1NSFbd0ZlgR8S74Hem2uNXSUGRBhNRI6e/view?usp=sharing
---
Graduation Announcement

Good afternoon, and greetings to the University School Class of 2020 and family members.
We hope everyone is doing well and staying healthy. From the moment you started kindergarten, you have worked toward one capstone moment: the day that you graduate from high school. It is an event that celebrates the friendships, the teachers and the experiences from the past 13 years and the family members and loved ones who have supported you along the way. Given the circumstances we have been under as a result of the COVID-19 pandemic, we know that all of you are anxious to hear how we plan to celebrate graduation this year. The purpose of this memo is to provide an update on our current plans.
University School is currently working with ETSU administration regarding the possibility of an in-person graduation event at a later date, but given that access to facilities is restricted and there are limitations on how in-person events can be conducted, we are unable to finalize those details at this time. While we are still hopeful that such an event might occur later this summer, it is important for our faculty and staff to have the opportunity to honor our Class of 2020 as your University School experience draws to a close later this month. Therefore, our school leadership team has deve­­­loped a graduation committee to help plan a virtual ceremony to recognize the senior class.
In order to produce a program that will be a wonderful keepsake for each of you, our graduation committee will be in contact with you in the coming days with instructions regarding this project and anything else that might be needed from you. In addition to any submission details, there will also be information about a scheduled time for honors regalia to be picked up. Please watch your email closely, as these requests will be highly time-sensitive. Again, we do want you to know that we are still hopeful to host a traditional in-person ceremony in the near future, and will be in touch once we have more information. In the meantime, our highest priority is for our virtual ceremony, which will be shared on May 29, will be one that truly honors and salutes the successes of this year's UH Class of 2020! We look forward to celebrating each of you and hope that if you still have not submitted your Senior Spotlight information that you will do so as soon as possible. As always, stay well and Go Bucs!
Sincerely,
Dr. Partin and Mrs. Day
---
Posted Sunday, April 5th, 2020
Good evening, University School Juniors and Seniors, I hope you all are staying healthy! I wanted to take a moment to personally reach out to you all because I know the spring of each year brings a series of special events reserved specifically for your grade levels. While I realize there are many things still up in the air regarding the remainder of the year, it is important for you to know that we are going to try to maintain or postpone as many events as we can in order to preserve as much of these experiences for you as possible, specifically prom and graduation. Since prom is scheduled for April 25th and within in our current school closure period, I regretfully have to inform you that it has been postponed. At this time, we have reached out to the venue and are trying to see if an alternate date can be secured. If that is not possible, we are going to seek other dates and locations in order to try to preserve this occasion for you. Again, this will depend on our ability to return as planned.
As far as senior graduation is concerned, there has not been any changes made at this time. With that being said, we will continue to adhere to the direction of ETSU and our state officials. Any changes made to that plan will be communicated to you and your families as we learn more. I can tell you confidently that if we are unable to complete graduation during our regularly scheduled date, we will still have a ceremony at a later date to celebrate your accomplishments even if we have to move it into July or August. Please know that you are all greatly missed and that I look forward to seeing you in the near future. In the meantime, stay well and Go Bucs!
Sincerely,
Dr. Partin
---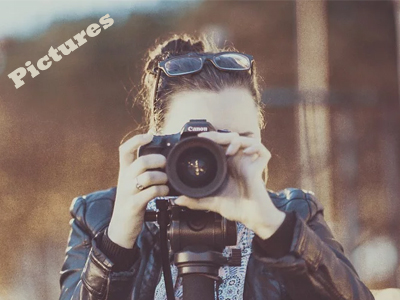 Twelve-Thirteen Year Club pictures will be made on Friday, March 6th, in the Kindergarten room, at 8:00 a.m.

Senior Superlative Pictures will be taken on Friday, March 6th, in the library. Please go to the library after 1st period attendance is taken.
---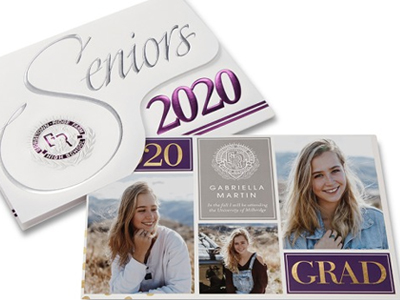 Jostens will be in the Counseling Office, from 7:30-8:30 a.m., on Wednesday morning, March 4th, to hand out orders! You should NOT miss class so be here early!!
Dr. Shaw
---
Mid-Year Reports and Mid-Year Transcripts
Hi Seniors-
Mid-year transcripts became available last Friday so all current orders for mid-year transcripts and all mid-year reports have been completed. Please check your various college accounts to be sure that these uploads are showing on the college or university's end. It may take a few days for some schools to process, but if you see a problem let me know ASAP. If you need me to send a mid-year transcript for you please request it through ScribOrders on the USchool website. Do not request final transcripts at this time. Now, I'm hoping the scholarship money will start rolling in! Keep me updated about your acceptances and financial offers. I like to keep track so that I can steer future seniors toward the money. J
Dr. Shaw
---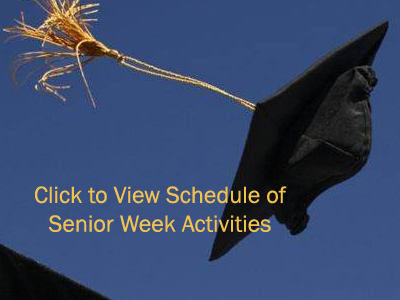 Hello senior families. It is hard to believe in less than 4 months our seniors will be graduating! We have organized our senior week activities and wanted to let you know what we have planned. As Dr. Shaw said in an earlier email, senior week activities are optional but we encourage everyone to attend as this will be their last chance to do activities as a class and make a few more senior memories.
Senior week activities:
• Monday- Memorial Day holiday
• Tuesday- Trip to Dollywood in a Deluxe Motor coach bus which will hold 56 and a mini-bus which will hold 30 more. We plan on ordering tickets the first part of March. We plan to leave from the school at 8:30 and return by 7:30.
• Wednesday- Seniors will attend Appalachian Christian Camp where we have reserved zip lining, a rock climbing wall, their pool, a full size gymnasium, and open grounds for soccer and kickball. We will also provide lunch and snacks for the seniors that day. Our plan is to leave around 8:30 and arrive back by 3:30. Transportation will most likely be a school bus.
• Thursday- Seniors will have graduation practice that morning. After graduation practice, we will invite all seniors to Angie Tolley's house where we plan to provide a catered lunch by Portobello's Italian Bistro. Seniors will have the opportunity to sign yearbooks, play board games, play basketball or soccer, and just hang out as a group before leaving to get ready for the Baccalaureate that night. Baccalaureate will be Thursday night at Munsey Memorial United Methodist Church (downtown).
• Friday- Graduation hall processional 7:45-8:15am/ Graduation class cap and gown photo 8:30-9:00am/ Graduation Practice 9:00-11:00am/ Graduation 6:00-8:00pm/ Project graduation that night
We still have a few seniors who have not paid their senior week fees. A letter will be going home with those seniors, who have not paid, the week of February 10th. It will contain your balance, due date, and options regarding attendance.
We also plan to have an after prom activity this year at the Johnson City Skate Center for those who wish to attend. We thought this would be nostalgic for our seniors seeing as they were paired with a kindergartener to do a skating activity when they were in wellness class. We wanted to present a safe activity for those who don't want to go straight home after prom. This event will take place from 11pm-1am and admission cost will be covered for seniors and their dates.
Project Graduation and Baccalaureate committees are being formed and those who volunteered should be contacted in the next few months.
If you have not ordered a yearbook you need to do it asap. Here is the link: www.yblive.net you can click "shop online", put our city and state, and choose which yearbook you want (high school or elementary). Also if you wish to do a senior ad, pictures and money are due by February 24th. For more info on yearbooks or senior ads contact Mrs. Hammonds at: hammondse@etsu.edu
As always if you have any questions feel free to contact me anytime.
Kindest regards,
Jackie Broome-Peevyhouse
423-483-8713
---
Seniors and Families of seniors,
As the yearbook staff is putting the final touches on the yearbook, we still need some items from you. Below is a list of the items that need to be turned in:
Senior Ads: If you would like to purchase a senior ad, please turn in the form that was mailed to your home address. You may also print one off from the website. You can send pictures in via flash drive, email, or physical copies. These need to be turned in no later than Monday, February 24th.
Senior Wills: Senior Wills should have already been turned in; however, we can still accept these until Monday, February 24th.
Senior Casuals: Senior casuals include 4 pictures total of the senior, keeping in mind that one picture will be displayed larger than the other three. If you have a preference of which one you would like displayed larger, please make that distinction. These can be turned in via flash drive, email, or physical copies. These are due Friday, February 14th.
Senior Quote: Senior Quotes should be school appropriate with a maximum word count of 25. These can be emailed to Mrs. Hammonds, @hammondse@etsu.edu, or written on a piece of paper and turned into Mrs. Hammonds. These are due Monday, February 24th.
While none of these are mandatory, it allows seniors to be specially recognized in yearbook. Thank you for your participation in helping make this year's yearbook one to remember!
2019-2020 Yearbook Staff
---
Dr. Partin will be meeting with the seniors during a Senior Meeting/Luncheon on Thursday, January 16th, at 11:00 a.m., in Brown Hall, Room 265. All seniors are required to attend. Lunch will be provided!
---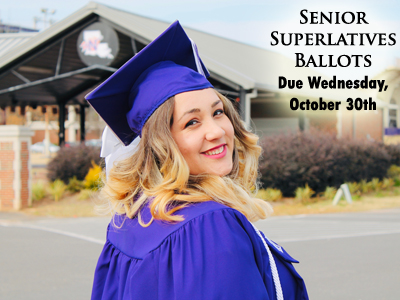 Attention Seniors! It's time to vote for Senior Superlatives. Please pick up a ballot from Ms. Carter in the office, Ms. Hammonds, or Ms. Bailiff. Ballots are due on Wednesday, October 30th.
---
Upcoming Important Dates
10/24/19 12-1 Wofford College Visit
10/25/19 12-1 ETSU College Visit
10/30/19 8-3 College App Day Tailgate Party (more info to follow)
9-10 Josten's Cap/Gown Supplies Meeting-Cafeteria
11/6/19 12-1 Josten's Order Pick Up-Library
11/13/19 12-1 Emory & Henry College Visit
11/21/19 12-1 Northeast State College Visit
---
Senior Wills are due on Friday, November 8th. The Superlative Nomination ballots are due today (Tuesday, November 22nd) to Ms. Hammonds or Ms. Carter.
---
Senior Class Updates from the Parent Committee
Hello Bucs. Thank you to the students and parents who attended our meeting this past Monday. For those of you who couldn't make it, here is a summary of what was discussed.
All unsold discount cards/ money needs to be turned in by October 11th.
We ask that all senior week fees (150.00) be paid by December 12th so we can put deposits down on activities in January. Make checks out to: University School Senior Class or PayPal: Univhighseniors@gmail.com If you are unsure of your balance, please feel free to email me.
Our fall Senior outing is this Friday, October 11th. Seniors can meet at Fender's Farm at 7:00pm and do haunted activities (23.95+tax for all activities, less if you do less) and then go to the Tolley residence at 216 Archer Rd, Jonesborough, TN around 8:30-9:00 for a bonfire, weenie roast, and S'mores. Parents are welcome to attend. We will also be voting on what activity that the seniors want to do to 'give back' to the community. Judy Rice has given us a list of things to choose from. –THANKS JUDY!
Our next fundraising venture will be NOVEMBER 16th-17th. We will be working a Basketball tournament. We will be responsible for concessions along with keeping the clock/score and taking team fees and admission fees at the door. Betsy Cunningham is our director of operations on this and Melissa Jones will be our concessions coordinator. THANK YOU BETSY AND MELISSA! We are asking parents and students to sign up for a 2 hour shift either on Saturday or Sunday. You can do so by clicking on this link and giving us your preferred time. We will do our best to accommodate. https://forms.gle/vgYrkP26M3skficP8 This will not be successful if we don't have enough volunteers.
If you have any questions please feel free to email or text me anytime.
Have a most grand day,
Jackie Broome-Peevyhouse
423-483-8713/ jackieslemp@yahoo.com
---
Senior Class Activities:


Senior Class Corn Maze, Smores and Bonfire - Friday October 11th, 6:30 p.m.. Please see details to come on Senior Facebook page and Instagram. Parent-sponsored activity.


Senior student/parent meeting October 7th at 6:00pm in the cafeteria.
---
ETSU Fall Open House for Seniors- Stay Overnight!
https://www.etsu.edu/students/mcc/programs/discover/
---
Dear Seniors-
Ms. Faith Vaughn, an admissions counselor at Sewanee, will conduct a workshop from 1-3 on October 16 in Rogers-Stout Room 224 (immediately after her Sewanee College Visit from 12-1. Students will have the opportunity to review sample college essays and participate in a mock admissions review to evaluate strong vs. weak applications and essays. This workshop is currently only open to Seniors. If space is available, we will open up registration to juniors then senior and junior parents. This is your chance to ask all of your questions to get the edge in your applications and essays. Please sign up using the google form below!
Ms. Shaw
https://forms.gle/FHfR3XGuJZNLx8hC7
---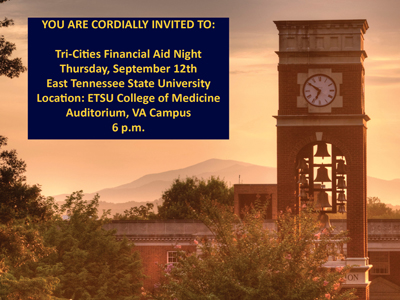 Important Senior Information
Check out important dates at this link! Updates are made frequently! https://docs.google.com/document/d/1aQK9GWez9SsxM3b2XZ3vWLEWBS2M2Kk3dxiEpIhmUjk/edit?usp=sharing
If you need a college or scholarship recommendation that has a due date before October 15, please request it by next Thursday 9/12. Students who need a recommendation MUST complete the recommendation self-assessment found on my senior website at https://uhseniorinformation.weebly.com/. Link can be found on my University School webpage. The form and other areas of the website such as the calendar have been updated. I will only complete the recommendation when I have received official requests, and I will complete them based on due date not date requested. Friendly reminders are ALWAYS welcome!
Always use the email shawa@etsu.edu and the phone number 423-439-6939 when completing college applications.
Berea College Visit has been re-scheduled for September 6! Students at Berea are required to work in exchange for portions of their tuition making it an affordable option.
To order a transcript visit the University School Website at www.usbucs.com, select "transcripts" on the main page, then select "current student" and complete the online form. Using this secure document server allows your private information to be encrypted. Most colleges and scholarship programs require an "official" copy of your transcript which means that you must use the online request format. You can also request a transcript just for you to view. I strongly recommend that you do this now—errors do happen. Some colleges or college application websites like the Common App may require me to upload documents through their server. This is fine as long as I know these documents have been requested. Most programs generate an email request to me, but ALWAYS double check that I got the request.
Apply for Tennessee Promise (2 year community college tuition) now at https://www.tn.gov/tnpromise.html. Must be completed and submitted by the end of October. Even if you are not currently interested in completing an associate's degree, I strongly encourage you to apply as a back-up plan. Sometimes things happen in life that we don't expect. Keep all the doors open for now!
Schedule your community service hours for break now!!! Trust me! Do it this break!! Don't wait!! You need 40 hours for graduation and 80 hours to be recognized as a TN Scholar. See TN Scholar requirements at https://www.tennesseescholars.org/. I do not need any paperwork now, but it will be due 3rd quarter. I will send more info at that time.
The 20-21 FAFSA opens on October 1. Use the last week of break to work on completing it at www.fafsa.ed.gov.
Be sure that you have subscribed to the Senior Remind list in case you need to contact me during the break. I will not be in my office during that time, but I will be working on lots of college applications and recommendations. J
Remember that our Niswonger CARE Advisor, Lucas Hitechew is at school all day every Thursday in the Counseling Office to help with college and scholarship applications, FAFSA, TN Promise, career exploration and all your college/career questions. Drop by or make an appointment at lhitechew@niswongerfoundation.org!
See attached invitation to Tri Cities Financial Aid Night coming up on September 12.
Don't worry! Not every email will be this long! Enjoy your break!
Dr. Shaw
---
University School Seniors,

Going Merry (www.goingmerry.com) is an awesome new scholarship website - it makes scholarship applications as easy as college applications are when you use the Common App! There is a big waiting list but all of you can skip it when you sign up here: https://www.goingmerry.com/c/aleetas-ezjb4.

Going Merry is a new site for me, but Ms. Bailiff and the Leadership Lit class spent quite a bit of time exploring it and reviewing it before I shared it with you! They all felt that it was a good opportunity to find private scholarships. Good luck with your scholarship applications!
Dr. Shaw
More Info
Going Merry is completely different from the older scholarship search engines:
Matching - Once you fill out your profile, you are automatically matched with scholarships you are most eligible for.
Direct Applications - You can apply directly to multiple scholarships, you never need to leave the site.
Autofilled Applications - All of the information from your profile is autofilled into each application, saving you time.
Estimated Application Times - Every scholarship has estimated application time to help you prioritize them.
Scholarships Grouped By Essay Topics - Scholarships are grouped by common essay topics so you can minimize the number of essays you have to write.
---
Need Help Getting Senior Info!!! Please complete the Senior Information Survey at https://forms.gle/Ktv8zxWWyTCEUUZw6 . If you have signed up for remind, you have this link in their texts. If you still need to sign up for REMIND, you can do that by texting 81010 with the message @uschool11.
---
The Senior Class will have an Ice Cream Social and Fun Night on Sunday, September 8th, at 6:00 p.m., at the home of Hayden Tolley.

More details available on Senior class Facebook and Instagram page, and flyers that can be picked up in the school office. (This event is not sponsored or chaperoned by school personnel)
---
Announcement for Parents of Seniors:



Parents of the class of 2020, my name is Jackie Broome-Peevyhouse and I am the senior class parent representative. The senior class had a meeting last Tuesday, and I wanted to go over some key points for any parents/ students that couldn't attend.* I am attaching the agenda which has some vital information for communication and upcoming events.*

To keep up to date with deadlines and activities, friend and follow us on Facebook at: UH Class of 2020 and Instagram @uhseniors2020

Feel free to use the hashtag #uhseniors2020 on Instagram photos of your senior. They may be used at graduation or for the yearbook!

Senior week is a tradition at University School. It consists of 3-4 days where the seniors do special outings and do not attend school. We want to continue that tradition. Senior week will be May 26th-28th,2020. Last year the senior class went to Dollywood, Pathfinders Camp, had a picnic, did the ropes course at ETSU, and attended the Senior Baccalaureate. Our seniors filled out surveys at the senior meeting last Tuesday. We will look at their surveys and determine our senior week activities as soon as we can. Going off of last year's activities we are estimating that senior expenses will be 150.00 per student. To help with some of the expense, we have created a discount card that will be sold for 10.00 each. Any cards that you sell will be deducted from your 150.00 balance, thus 15 cards sold equals a 0 balance. Cards will be delivered to the office in envelopes with your student's name on it. Your child will sign their cards out and return money in the envelope back to the office by September 1st. Any cards not sold must be turned back in or you will be expected to pay for them. Cards will be made and distributed by August 1st, but we are hoping to have them ready sooner. That will give you 3-4 weeks to sell them before the Johnson City Schools sell their discount cards. If you would like to participate in the discount card fundraiser, send me an email with your name, child's name, and your cell phone number to jackieslemp@yahoo.com and I will send some cards home with your senior.

Selling discount cards is completely optional. If you would rather forgo selling the discount cards and just write a check or Paypal your child's dues, that is always an option. Make your 150.00 check out to University School Seniors or send it thru PayPal to univhighseniors@gmail.com . Make sure to put your child's name in the remarks or memo line so we will know to credit your child's account. Your child can drop their check off to the office.

We were thinking of participating in the Tree Street's Yard Sale in September, but because we haven't had anyone volunteer to coordinate it we are looking at possibly not doing that fundraiser and concentrate on something that wouldn't need so many volunteers. We will make a decision and inform you in the next few weeks.

Money that is raised thru the discount cards and other fundraisers will help fund senior week, t-shirts, the baccalaureate reception, project graduation, possibly an after prom activity, and much more. We were also fortunate to get a head start on ordering t-shirts because the class of 2019 so graciously left us 900.00 to start our year with. We hope to pay it forward and leave the class of 2021 some funds to start their year off with as well. We may try and organize monthly or bimonthly activities for the seniors that may have an additional cost, but those activities will be optional and with minimal expense. Some ideas we have considered are hayrides, ice skating, movies, and other fun activities that will just get the class together to hang out.

Again, if you would like to sell discount cards or have any questions, please email and let me know.

I look forward to working with you and hope to make this year as memorable as possible for our seniors.

Jackie Broome-Peevyhouse

423-483-8713 feel free to text
---
---
Seniors! Our Fall Senior Retreat is Friday, July 19th, to Roan Mountain State Park. We will have some college sessions and loads of fun! Return your permission form and $5 to Ms. Shaw by Wednesday, July 17.
Seniors! Be sure to join our Remind list at http://rmd.me/b?rid=71559542!
---
Watch Live Stream of 2019 Graduation Ceremony on our University School YouTube Channel.

Click here to View Live Stream
---
Printable Peer Tutoring Application
Dear Seniors-
Need volunteer hours or to make a little extra money? Apply to be a peer tutor! University School always has a need for tutors for students of all ages. Please consider applying to be a tutor!
---
Important Senior Information!!!!
Dear Seniors and Senior Families-
This may be the most important email that I send you all year so please read it to the end.
-First, I have a special senior website where nearly everything you need to know is posted. It can be found at the top of the senior page on my faculty website. If you do nothing else, please watch the application and financial aid videos. The link is https://uhseniorinformation.weebly.com/. I have finished updates today, but if you notice errors please let me know. You can also use the college and scholarship searches on my website to help narrow down your choices to a list of 3-7 (just a recommendation-application fees can be expensive).
-Second, it is time to begin your college applications if you have not yet done so. Completing your college applications should happen over fall break so that everyone can meet important scholarship and admission deadlines. UT-Knoxville has one of the earliest deadlines at November 1, but if you are applying for early admission or early decision your deadlines may be earlier. If ANYTHING you need is due in September or early October I need it this coming TUESDAY 9/4!!!
There are three ways to apply to college:
On the website of the college
Through the Common Application at https://www.commonapp.org/ for membership schools
Through the Coalition Application at http://www.coalitionforcollegeaccess.org/ for membership schools
-Third, if you think you might qualify, apply for free/reduced lunch to be eligible for fee waivers for ACT/SAT/College Application Fees. You do not have to eat the lunch, but it will prove your eligibility for fee waivers. Applications are available in the main office and in my office.
-Fourth, apply for the TN Promise (free community college tuition) at http://tnpromise.gov/. Even if you do not plan to attend community college it is an excellent back up plan in case something interferes with your primary plans. Additional scholarship info coming soon.
-Fifth, request transcripts for college applications that you are completing. Some sites like Common App will automatically issue a request to me. Others will require that you make the request directly to me. Unfortunately, we are currently in transition with the site we use for digital transcript requests so for the next few days it is best to request transcripts via email. If you have already used Parchment, they have been sent. We are switching to ScribOrders. Info coming soon.
-Sixth, request any recommendations that you need from me or your teachers three to four weeks in advance. Be specific about what you need and when it is due. I require that you email me a COMPLETED Recommendation Self-Assessment form(attached and on the senior website) before I will write you a recommendation. You are welcome to send it to other people that you ask for recommendations.
-Seventh, check my website and the school's website for important dates and information and ALWAYS read my emails. Email is the primary way that I will communicate important information to you. Look for an email soon about text alerts for seniors.
-Eighth, all seniors are expected to retake the ACT on the Senior Retake Date of October 16 during the school day. All seniors are registered through the school. Students with a 30 or above ACT may elect not take the exam (must notify Ms. Shaw if not planning to take), but taking an ACT is a graduation requirement in the State of Tennessee. If for some reason you DO NOT WANT to retake the ACT please inform me before we go on break.
-Eighth, if all of this is overwhelming and confusing, take a deep breath and schedule an appointment with me J.
Thanks for reading to the end! More updates coming soon!
Ms. Shaw
---
View Graduation 2018
Civics Test - Required for Graduation

This test is required for graduation. Study materials have been placed on Ms. Campbell's school webpage.



View 2017 Graduation Ceremony on USchool YouTube Channel
The recording from the 2016 Graduation Ceremony can be viewed on our University School YouTube Channel:

Click here for Link to 2016 Graduation Ceremony
---
I just wanted to let you know that as a senior parent you will have some extra responsibilities this year. As a part of the Graduation Week (last week of school), the senior parents traditionally arrange an overnight retreat, a senior picnic, the Baccalaureate service and Project Graduation (graduation night lock-in). The school will donate a small amount of money toward these parent arranged festivities, but the burden of fundraising falls to the parents. All of the above listed activities are optional, but have become a tradition usually embraced by the senior parents to give the graduates a great finish to high school. There is no set system in place to organize parent involvement, but usually at least one parent will step forward to begin the process. I am happy to serve as advisor and facilitator for helping you organize Senior Week and to relay information to the seniors. Below, you will find the mandatory graduation activities that I have already scheduled, and other activities should be scheduled around these events. The person in charge of Project Graduation should see Ms. Robinson ASAP to reserve facilities in the CPA. I encourage you to begin the conversation soon!
Thanks!
Ms. Shaw
---
---
Link to the 2015 Graduation recording
---
Click to View 2014 Graduation Ceremony

---
---
Seniors, don't forget to submit your Contact Information to the Alumni Database!!! Yes, you made it!!!
---
---
Parents of Seniors: Seniors are required to complete 40 hours of community service before they graduate. To date, many seniors have not submitted their forms to Ms. Shaw. This is a state requirement to graduate. Please work with your student to take care of this item.
---
---
Ask Ms. Shaw about Duplicate Diploma Requests