---
We welcome and need your involvement in the University School Foundation, which is our version of a Parent/Teacher/Student association that serves the faculty, staff and students at University School. We are a volunteer group of dedicated parents, teachers, and administrators and YOU are a member. Like and follow us on Facebook.
What does the University School Foundation do?
The primary mission of the University School Foundation is to support the children, students, and faculty and staff that attend and are employed by University School, to assist in providing an enriched physical and intellectual environment so that each individual has a positive place to learn and/or work, to operate exclusively for charitable, scientific, literary, physical, and educational purposes and more specifically for the support, improvement, and perpetuation of the University School of East Tennessee State University, Johnson City, Washington County, Tennessee.
How does the University School Foundation raise money?
We organize fundraisers. We run a fall fundraiser and a spring fundraiser each year and will host additional fundraisers as necessary to meet the needs of our school. An opportunity to make monetary donations directly to the Foundation or specific projects is also available. Donations of any amount are greatly appreciated and all donations are tax deductible.
What does the Foundation do with money that is raised?
We fund requests from teachers which may include tools and materials, curriculum (educational materials), and technology.
Who can be a member of the Foundation?
Any parent/guardian of a University School Student who subscribes to the purposes of the Foundation.
When does the Foundation meet?
2nd Monday of the Month at 3:30pm. Meetings begin in August and we do not meet during breaks.
Where does the Foundation meet?
In the 3rd Grade Classroom (Room 103)

What are some of the Volunteer opportunities?

Volunteer Committee
Using these completed forms the coordinator and this committee will plug volunteers into various events throughout the year via telephone calls or emails. This is a great way to meet people.
Box Tops Committee
You know those box top labels you see on products in the grocery store? Well, they can add up to a lot $ for our school. Our coordinator could use one or two committee members to help collect, count, and mail box tops throughout the year. These committee members will collect box tops twice a year (Spring and Fall) and total time necessary is about 5 hours.
Field Day Committee
Everyone loves Field Day! If you choose this, you'll work one on one with Coach Cradic to coordinate volunteers for the special day. Committee members will spend 1-2 hours pre field day and can spend up to 7 hours on field day.
Hospitality Committee
Let's make our teachers feel special with some hospitality. As a member you will work along side the coordinator, to help with school wide teacher appreciation projects (i.e. breakfasts/lunches), teacher appreciation week, and other special events your group may decide upon together. Committee members will help with these special events throughout the year, total time necessary is 1-2 hours per event.
Spring Fundraiser Committee
Every spring, around Mothers Day, University School sponsors a plant sale. Our Fundraising Coordinator could use several committee members to help with the planning and coordination of the plant sale. Committee members will help with this once a year event for several weeks before with planning and during the event; total time necessary is 5-10 hours.
Fall Fundraiser and Committee
Work with Fundraising Coordinator and the University School Foundation board to plan and execute the fall fundraiser, collection of money, and distribution of materials. Time needed 4-5 hours planning, 4-5 hours collecting and tallying monies, 12+ hours distributing. (This committee needs several members)
Community Service Committee
If you like to help others than this is for you. Team up with the coordinator and University School faculty and help with Drives. Canned food drives, coat drives, clothing drives, etc. Time needed varies with each drive.
Special Events Committee
Volunteers in this area will help with school special events like Pickin in the School Yard, Annual Musical Productions, School Beautification Days, Middle School Mixer, etc. The Special Events Coordinator and you will work with the University School Faculty member or foundation representative for each grade level. Time needed varies with each event.
Come to a meeting! Join us! Participate in fundraisers!
How can you get more information?
Contact any of the board members listed or show up at a meeting. Everyone is welcome.
The University School Foundation will normally meet every 1st Monday of the month, in Room 219, at 3:30 p.m. Some meetings will be rescheduled when breaks interfere. The following dates are scheduled for 2019-2020:
Monday Sept 2nd
Monday Oct 7th
Monday Nov 4th
Monday Dec 2nd
Monday Jan 6th
Monday Feb 3rd
Monday March 2nd
Monday April 6th
Monday May 4th
2019-2020 University School Foundation
---
Printable University School Foundation Athletics Committee (USFAC) Sports Passes Request Form
Printable Schedule for Sports Physicals Dates
---
University School faculty and staff may apply for funding through the Foundation by completing a Funding Request Application. Email or return to Leisa Harvey ltharvey@charter.net or UniversitySchoolFoundation@gmail.com
---
Dear University School Families,
I hope you had the opportunity to attend the University School Foundation Fall Festival on Friday October 18, 2019 (photos below). The attendance at the event was beyond my expectations and we can be thankful that the weather cooperated to provide us with a wonderful day for the event. This year our Foundation had a goal to provide more opportunities for families to be engaged in our school. To start the process of Family Engagement our Foundation decided to work together with our restaurant partners to schedule a monthly mealtime event. Each of our restaurant partners provides a percentage of sales back to the University School Foundations. We have had two successful events one at Chick-Fil-A in September, and Freddie's in October. Kelly Ransom is coordinating our monthly events, please be sure to watch our social media posting for future restaurants and dates.
I want to thank our Foundation Board of Directors, our volunteers, and the families and students for working together to make the event a success. A special Thank You to our Fundraising Chairwoman, Christine Hutchinson for her vision to start the Fall Festival and bring back the family engagement to University School.
It is challenging to find ways to engage the student population in a K-12 school. As I walked around and talked with students and families on Friday night, everyone that I spoke with thought the event was a huge success. The event seemed to have something for all ages and our students were engaged in the wide variety of activities.
It takes an army of volunteers to make events like this happen. Without volunteers this event would not be possible. Thanks to Linda Glisson for coordinating our volunteers. Thanks to Tracy Lehrfeld for coordinating the Trunk or Treat. Thanks to Myra Elder for coordinating the Chili Cookoff and our food for the event. Thanks to Jill Hayter for coordinating the Haunted Hustle. Thanks to Kristi Bode for coordinating the Scare Area and Decorations. Thanks to Heather Moore for coordinating the Gaming Truck. Thanks to Kelly Foster for her help with the Online Sign-up, Movie Snacks and Treats. Thanks to Ginger Hare for coordinating our Costume Contest. Thanks to Amy Horton for selling our University School apparel. If I've left anyone out that should be thanked it was inadvertently and know you are appreciated!
I also want to thank the faculty and staff at University School. Our administration at University School was supportive in our efforts to make this event a huge success. Our teachers and staff were engaged in our activities to ensure our students were welcome and safe throughout the night.
Again, I want to express my sincere thanks to our Fund-Raising Chairwoman Christine Hutchinson. Your vision to hold this event and your creativity for this year's fall festival was exactly what we needed to re-engage the students, families, faculty and staff at University School.
Please mark your calendar for our annual Fundraiser at Barnes and Nobel to be held on Tuesday December 3rd, from 5:30pm to 8:30pm. This is a great opportunity to buy a gift for your child's teacher or books for their classroom.
To close out the school year, we will have another fundraising opportunity on April 18th, 2020. This event will be a casual event to be held at a farm or barn location somewhere in the area. The theme for the event will be Bluegrass, BBQ, and Brews. The event will feature a live auction, silent auction, music, food and an opportunity to fulfill teacher requests for classroom items.
Thanks again for a wonderful event, without your help, this could not be possible. In the next week we will be sending out a survey to our families, faculty and staff for their feedback on the Fall Festival. It is my vision to make the fall festival an annual event at University School. The engagement across elementary, middle, and high school students and their families is crucial to the success of the University School and the University School Foundation. We will be working with the administration to establish a date for 2020, so each family will be aware of the timing and plan to attend the annual event.
Sincerely,
John Dixon
University School Foundation President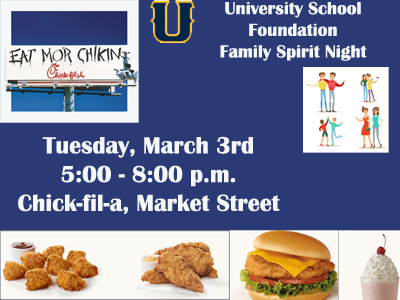 Come join our University School Foundation for Family Spirit Night at Chick-fil-a, Market Street, on Tuesday, March 3rd, from 5:00-8:00 p.m.

True Bucs Eat Mor Chikin! Very true.