University School
Parents
University School Foundation
Thanks to everyone who supported and/or joined us for our fall festival Friday evening. We couldn't have pulled it off without all of the amazing volunteers, parents, kids, sponsors, faculty, and administrative folks who put their time, energy, and heart into this fabulous event!
The event was so successful, we actually ran out of some shirt sizes, but are happy to order more for anyone who didn't get their preferred size for a reduced cost. Please just send an email to Usfoundation.fundraising@gmail.com or message the foundation through the University School Foundation Facebook page and we will get you taken care of!
More photos and videos on University School Foundation Facebook Facebook
We welcome and need your involvement in the University School Foundation, which is our version of a Parent/Teacher/Student association that serves the faculty, staff and students at University School. We are a volunteer group of dedicated parents, teachers, and administrators and YOU are a member. Like and follow us on Facebook.
What does the University School Foundation do?
The primary mission of the University School Foundation is to support the children, students, and faculty and staff that attend and are employed by University School, to assist in providing an enriched physical and intellectual environment so that each individual has a positive place to learn and/or work, to operate exclusively for charitable, scientific, literary, physical, and educational purposes and more specifically for the support, improvement, and perpetuation of the University School of East Tennessee State University, Johnson City, Washington County, Tennessee.
How does the University School Foundation raise money?
We organize fundraisers. We run a fall fundraiser and a spring fundraiser each year and will host additional fundraisers as necessary to meet the needs of our school. An opportunity to make monetary donations directly to the Foundation or specific projects is also available. Donations of any amount are greatly appreciated and all donations are tax deductible.
What does the Foundation do with money that is raised?
We fund requests from teachers which may include tools and materials, curriculum (educational materials), and technology.
Who can be a member of the Foundation?
Any parent/guardian of a University School Student who subscribes to the purposes of the Foundation.
When does the Foundation meet?
2nd Monday of the Month at 3:30pm. Meetings begin in August and we do not meet during breaks.
Where does the Foundation meet?
In the 3rd Grade Classroom (Room 103)

What are some of the Volunteer opportunities?

Volunteer Committee
Using these completed forms the coordinator and this committee will plug volunteers into various events throughout the year via telephone calls or emails. This is a great way to meet people.
Box Tops Committee
You know those box top labels you see on products in the grocery store? Well, they can add up to a lot $ for our school. Our coordinator could use one or two committee members to help collect, count, and mail box tops throughout the year. These committee members will collect box tops twice a year (Spring and Fall) and total time necessary is about 5 hours.
Field Day Committee
Everyone loves Field Day! If you choose this, you'll work one on one with Coach Cradic to coordinate volunteers for the special day. Committee members will spend 1-2 hours pre field day and can spend up to 7 hours on field day.
Hospitality Committee
Let's make our teachers feel special with some hospitality. As a member you will work along side the coordinator, to help with school wide teacher appreciation projects (i.e. breakfasts/lunches), teacher appreciation week, and other special events your group may decide upon together. Committee members will help with these special events throughout the year, total time necessary is 1-2 hours per event.
Spring Fundraiser Committee
Every spring, around Mothers Day, University School sponsors a plant sale. Our Fundraising Coordinator could use several committee members to help with the planning and coordination of the plant sale. Committee members will help with this once a year event for several weeks before with planning and during the event; total time necessary is 5-10 hours.
Fall Fundraiser and Committee
Work with Fundraising Coordinator and the University School Foundation board to plan and execute the fall fundraiser, collection of money, and distribution of materials. Time needed 4-5 hours planning, 4-5 hours collecting and tallying monies, 12+ hours distributing. (This committee needs several members)
Community Service Committee
If you like to help others than this is for you. Team up with the coordinator and University School faculty and help with Drives. Canned food drives, coat drives, clothing drives, etc. Time needed varies with each drive.
Special Events Committee
Volunteers in this area will help with school special events like Pickin in the School Yard, Annual Musical Productions, School Beautification Days, Middle School Mixer, etc. The Special Events Coordinator and you will work with the University School Faculty member or foundation representative for each grade level. Time needed varies with each event.
Come to a meeting! Join us! Participate in fundraisers!
How can you get more information?
Contact any of the board members listed or show up at a meeting. Everyone is welcome.
Printable USFAC Sports Pass 2021-22 Order Form


To aid in the support of athletics at University School, the University School Foundation Athletics Committee (USFAC) will be selling Sports Passes this year to cover the cost of operating the USFAC programs. Passes include admission to all HOME Athletic Events for the entire 2021-22 school year. Passes do not include admission to away games or tournament play. Family passes are non transferable and must be presented at the gate for admission to the athletic event. Each family member (immediate household) will receive his or her own pass that must be presented for admission into home contests.
Click on the link provided to access the order form. Contact Ginger Hare at hareginger@gmail.com for more information.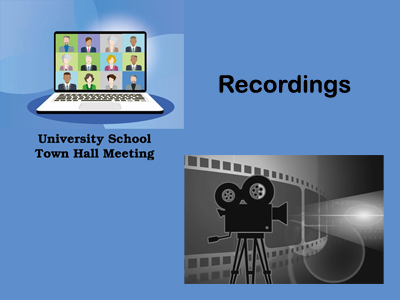 Recordings for Town Hall Meeting

Thank you to all who were able to attend the Town Hall Meetings with Dr. Partin and Dean Scarborough this past week. Links to the recordings are listed below:
Grades 6-12:
https://tinyurl.com/USchool-6-12-Townhall
Grades K-5:
https://tinyurl.com/USchool-K-5-Townhall
Did you know that University School has its very on Fairy?
Last fall, a group of parents started an initiative to make school staff feel special and say "Thank you" for all of their hard work and dedication to make our year a success. As a result, the University School Foundation Hospitality Committee is continuing this project by leaving special notes of thanks, drinks, and treats in the staff lounge each week. If you would like to contribute to the "Fridge Fairy Project", please make donations to the Foundation via our PayPal account, usfoundation.treasurer@gmail.com please just make sure to tell us that this is for the Fairy.
The funds will be used to purchase items needed on a regular basis to help give back a small token of appreciation and gratitude for their ability to continually go above and beyond for our school's success. We know now more than ever the hard work and love the teachers, faculty, and staff pour into our children on a daily basis. For more ways you can help, please reach out to Christine Hutchinson at hutchinson.christine@gmail.com to get involved with the University School Foundation.
Printable Funding Request Application
University School faculty and staff may apply for funding through the Foundation by completing a Funding Request Application. Email or return to Leisa Harvey ltharvey@charter.net or UniversitySchoolFoundation@gmail.com