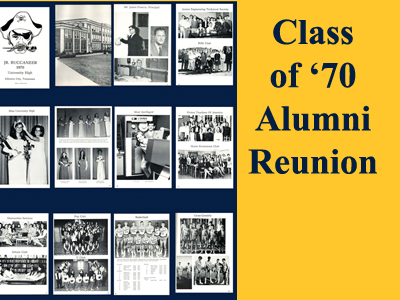 ---
Alumni Newsletter, December 2020
Alumni Newsletter - December 2020
---
Alumni Newsletter, February/May 2020
US Bucs Alumni News, February 2020
---
We have discovered some extra yearbooks. We are offering them to alumni for FREE. If you would like a copy, please email Mrs. Knight in the University School Library and make arrangements to get the yearbook of your choice. The following yearbooks are available.
2010 (2 copies)
2008 (4 copies)
2007 (1 copy)
2002 (9 copies)
2000 (15 copies)
1997 (18 copies)
1996 (3 copies)
Terri Knight
knightt@etsu.edu
---
Alumni Newsletter, December 2019,

Homecoming, 1990's Decade
US Bucs Alumni News, December 2019
Alumni Newsletter, August 2019
US Bucs News, August 2019 Issue
Newsletter, May 2019
Newsletter, Spring 2019
US Bucs News, Spring Issue 2019
Newsletter, Homecoming 2018 - 1980's Decade
US Bucs News, Winter Issue 2018
---
Newsletter, Homecoming 2017 - 1970's Decade
Homecoming 2016-2017 Honors Alumni from 1950's and 1960's
University School Alumni from the 1950's and 1960's were honored at our recent Homecoming Game. Photos and video below represent a wonderful time of seeing old friends and meeting new friends! Thank you so much for coming out and sharing your memories with us!
US Bucs, Fall, Homecoming Issue 2016

Welcome University School Alumni to Homecoming 2016! Our Bucs will take on Asheville School on Wednesday, November 30th, at Brooks Gym on the ETSU Campus. Varsity Girls will play at 5:00 and Varsity Boys will play at 7:00 p.m. Homecoming will feature our 2016-2017 Homecoming Court Presentation (around 6:30 p.m.), as well as a new tradition for University School. Each year for homecoming, we will be selecting a decade of University School graduates to honor/feature. A special invitation is hereby extended to all alumni who attended or graduated from University High during the 50's and 60's decades!

All alumni are invited to the game to enjoy the celebration of the 50's and 60's.
Throughout our Homecoming Game, we will be announcing interesting facts and updates from our 50's and 60's alumni. If you were a graduate in the 1950's or 1960's, we need to hear from you! Please reply via email to USalumni@etsu.edu and tell us about yourself, or tell us what you remember about your years at University School. You are our featured guests! Come to the games, make yourself at home, and enjoy spending time with old friends and new friends at a special Hospitality Room set up just for you! Please RSVP and let us know that we can expect to see you! We can't wait!

Welcome Home!
---
2014 Reminisce Reunion Weekend

Graduation Ceremonies
---
Class Year Reunion Contacts / Announcements

Alumni Contact Information Requested: University School is updating its alumni database and is requesting contact information from graduates and other students who attended the school. Anyone who graduated from University School or attended the school is encouraged to complete the contact information below and submit the form. If you have any questions, please email usalumni@etsu.edu
Please enter either your graduation year or the year that you would have graduated if you had continued enrollment at University School.
Click here to Complete Alumni Contact Information
---
Facebook page! A Facebook page has been created by the University School Foundation for University School alumni!
The site link is www.facebook.com/groups/636979096341573/
---
Class of '96
Class of 1996 Reunion will be July 15-16, 2016. Contact Krishelle Sorrell Pollard for details.
Ksorrell@gmail.com
Facebook
423-946-8244
---
Class of '70

Contact: Donnie Potter, Email: donald.e.potter4.ctr@mail.mil
---
All Class Year Reunion 2014
Reminisce Reunion Weekend (photos above) was a Great Success!!!! On Friday & Saturday, April 11th & 12th, alumni who had attended University School gathered to Reminisce about good times, to Reconnect with friends, and to Rejuvenate our alma mater! The event, sponsored by the University School Foundation, began with a formal dinner held at the Millennium Centre on Friday evening and continued on Saturday morning with an Open House on the University School grounds featuring student performances as well as Pickin in the Schoolyard featuring the ETSU Bluegrass Pride Band.
Click on the following link to view thePower Point Presentation from Alumni Event . After the file is loaded, click on the "slideshow icon" on the lower right corner of the screen to begin presentation.
---
Class of '89 Website: http://www.uh1989.myevent.com/
Joe Cowan

205-223-0706

jlc@hsy.com

Robin Foister Sturgill

423-928-8826

prsturgill@embarqmail.com
---
Class of '96
Contact information:
Krishelle Sorrell Pollard
828-242-1394
ksorrell@gmail.com
---
Classes of '64 - '68
Bill Bridgforth wabjr705@hotmail.com
---
Class Reunion Organizers: The University School Foundation needs your mailing lists for future UH publications! Mail them to: University School Foundation; University School; PO Box 70632; Johnson City, TN 37614.
Also, we would be happy to post any reunion announcements on our website. Please email your information to University School Webmaster
---
The University School Media Center is looking to complete our collection of school yearbooks. We need some help. If you have a copy of one of our missing yearbooks that you would be willing to donate to the library collection, please call the school (423)439-5752, 439-4333, or email Knightt@etsu.edu.
We need years
1954
1960
1962
1963
1973
1984
1986
1989
1998
Thanks!