Welcome to Music and Theater!
Google Classroom Class Codes:

0 Period Chorus: td3szcx
Middle School Chorus: pbszp4z
Music Appreciation: ocue57b
3rd Period Chorus: 4b2lpo2
Theater Arts (high school): b2mmnr2
Middle School Theater: 4hthqfb
Please note that when school is delayed, 0 period will not meet.
---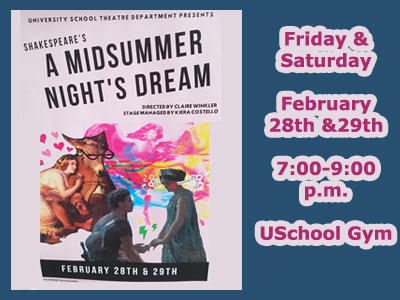 University School Theatre Department will be presenting A Midsummer Night's Dream, on Friday and Saturday, February 28th and 29th, from 7:00-9:00 p.m., in the University School Gym. Come out and support our theatrical Bucs!
---
ETSU Music Scholarship information: https://www.etsu.edu/cas/music/resources/scholarships.php
ETSU Pre-College music program: https://www.etsu.edu/cas/music/precollege/default.php
East Tennessee Vocal Association (ETVA, All East auditions): https://etvablog.wordpress.com/
---

Photos of the concert, taken by a parent, Kathi Horne, have been placed on an external site, Walgreens, by Kathi. Photos are available for viewing or ordering from Kathi's Gallery


---
Congratulations to Ms. Allyson Ross who received this year's University School Teacher of the Year (Most Innovative Teacher) Award.


Ms. Allyson Ross brings music and song to the faculty, staff, and students of University School. Her love of music and theater is demonstrated daily in her work with the students. She brings out the best in students.

The choir and theater students have been hard at work all year long on different performances. She puts countless hours into the program (after school and on weekends) and her positive attitude has spread to the students as evidenced by increased enrollments in the theater program.

What a joy it is to walk into the building in the early morning and hear the sounds of the choir singing. It is an uplifting way to begin the day for faculty and students. The growth of her students has been simply amazing.

She has also been instrumental in helping our school become more "green" in words and in actions. She took the initiative to write a grant that provided us with reusable tableware to use. Her work towards getting the drinking fountain that fills water bottles shows her commitment to recycling and the environment.

The University School Chorus, pictured below, performed at the Clemmer College of Education Awards Ceremony.

Congratulations, Ms. Ross!


---
---
Good morning everyone,
This is a reminder that if school is canceled, rehearsals will also be canceled. Please continue to work on memorizing your lines so that our next rehearsal will go smoothly.
Warmly,
Allyson Ross
Music and Theater 6 -12
University School, ETSU
423-439-4271