Congratulations to our Men' Golf Team who won 2nd Place in Regional Tournament at Link Hills Country Club, Greenville, TN. Daxx Carr and Chloe Ganger qualified for the State Tournament as individuals. Way to go, Bucs!

Read article in

Johnson City Press
Congratulations to our University High Men's Golf Team for winning the District Tournament! Our Lady's Team won 3rd place! The following article was printed in the

Johnson City Press:

University High captures fourth straight district golf title
Jeff Birchfield September 14, 2020



ELIZABETHTON — The University High boys won a fourth consecutive District 1 Small Class golf championship Monday, while Unaka made history on the girls' side.

Garrett Gentry led the way with a low round of 6-over 78 as University High finished ahead of runner-up Hampton 336-349 at Elizabethton Golf Course.

Daxx Carr added an 83 for the Bucs, while Jaxson Williams came through with an 84. Wes Estes and Hank Berning each posted rounds of 91.

"We've been fortunate to have a lot of good players and that has been the key to our recent run," University High coach Justin Penley said. "The kids have worked on their games outside of the regular season and played well during the season. They've put us in the position to accomplish that.


"Garrett struggled some of the front, but he turned it around on the back nine and got dialed in. You know what Daxx is going to bring. He's been our leader for several years now."

Gentry shot a 41 on the front nine, but matched individual medalist Josh Owens of Hampton with a 37 on the back nine. He said a 10-minute break at the turn did wonders to get his head back in the game.

"I struggled off the tee and didn't have the pace on my putts on the front nine," Gentry said. "I got mentally prepared and fixed that on the back nine. That's what I've been working on lately, to keep my mental game in check."

Owens had an eagle on hole No. 5 and four birdies on his round of 2-over 74. He was solid off the tee, but struggled on his approach shots. It didn't matter with the way he was playing on the greens.

"If it wasn't for my putting, I would have shot high 80s because I didn't hit the ball that great," Owens said. "I was good off the tee and would be in the fairway, but then I would get 25 feet away on the holes."

A baseball player growing up, Owens was encouraged by his cousins Izaak and Avery Hill to take up golf two years ago. He has been dedicated to the game ever since.

"My cousins played their whole lives. They asked me to come play on the high school team and I fell in love with it," he said. "I play this course five days a week and then I hit the range on the weekends. I'm here every single day."

Avery Hill contributed a round of 88, while R.J. Tolley posted a 92 and Parker Henry shot a 95 for the Bulldogs' team score.

Johnson County's team of Jackson Earnhardt, Dakota Holt, Peyton Pavusek, Graham Reece and Dalton Adams finished third at 382 to also qualify for Thursday's Region 1 tournament at Link Hills.

Individual qualifiers were: Tyler Morrison, Jordan Pruitt and Samuel Riddle from Chuckey-Doak, Jacob Cross from Sullivan North and Gavid Seigfried from Unaka.

GIRLS MATCH
Sadie Shoun was the girls' individual medalist with a 96 and she led the Lady Rangers to their first-ever district title by just one stroke 224-225 over Hampton. She was determined not to let a slow start on the back nine sink her round.

"I started strong on the front nine, but I get on hole No. 11 and hit my drive into the road," she said. "That put me four-over. I just had to make sure I didn't hit any water and get into any sand traps after that — and putt close to the hole as possible."

Macy Ensor finished at 128 for the other Lady Rangers' score. Despite Shoun and Ensor not playing the game until high school, the pair added to the strong tradition of championships in other girls' sports.

"Sadie and Macy didn't pick up the game until they were freshmen and they're juniors now," Unaka coach Aaron Dugger said. "This was their goal and they hung with it. It shows how fortunate we are to have good girls athletes. Our basketball and softball programs have been going to the state tournament in recent years. These two girls play both those sports and it's a testament to their athletic ability and hard work."

Hampton's duo of Macy Henry and Rylie McClain were down seven strokes after the front nine, but rallied to finish at 225. University's Chloe Ganger finished runner-up individually at 106 as she and teammate Quinn Scheller placed third at 228.
Coach:
Dr. Justin Penley
---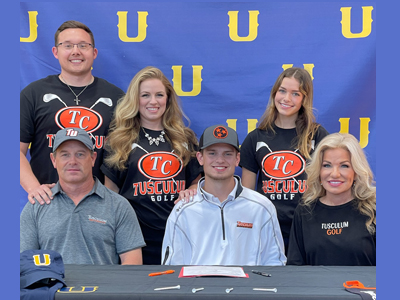 University High golf standout Daxx Carr will be signing with Tusculum University to continue his academic and golf career on Tuesday, May 11 at 3:30 in the school (Alexander Hall) gym.
A decorated athlete, Daxx had experienced tremendous success. Daxx has been member of the varsity team and has played as our number 1 golfer in numerous matches throughout his high school career. With his leadership and steady performance as a key factor, Daxx has had a part in four consecutive team District Tournament championships, and has also qualified individually in two TSSAA State Tournaments. Other accolades include multiple SNEDS Tour tournament wins, multiple top 4 finishes on the Hurricane Golf Tour, winning an ADL World Long Drive (Myrtle Beach, SC) Junior Male Championship, and a Tri-Cities PGA Junior Championship, among others. Also showing a dedication to excellence off the course, Daxx has been successful in the classroom as well as being awarded multiple Presidential Volunteer Service Awards.
Congratulations, Daxx!
High School Golf Tryouts will be held Tuesday, August 18th and Thursday, August 20th, at Pine Oaks Golf Course, at 3:30 p.m. each day. Additional information:



All student-athletes that wish to tryout MUST have completed/signed physical paperwork, concussion form, and SCA form. This cannot be brought to tryouts,

it must be turned in to the school prior

to attending the tryouts. Athletes who have not complete this step will not be allowed to tryout. (More information/forms

)




In order to observe TSSAA Covid-19 guidelines, all athletes will have his/her temperature taken prior to participating. Screening questions will also be asked of each athlete. Additionally, athletes must

must wear a mask

prior to teeing off and directly following completion on the round (players should bring their own masks). Social distancing will also be enforced. Players should bring his/her own drinks and not share with others.


Parents who are driving athletes to the tryouts are asked to remain at the course at least until their child passes Covid-19 checks.


Number of players on the team this season may be more limited than typical to help with social distancing.


IN case of poor weather, tryouts may be reduced to one day.


Please e-mail Coach Penley (penleyj@etsu.edu) with any questions.