University School
Athletics
Tennis
University School is in a co-op in Boys and Girls Tennis with Unicoi County High School.

Coach: Karla Keesecker email: keeseckerk@unicoischools.com
The below students are participating:
Lily Mefford
Kaylee DeGennaro
Jordan Havert
Sathvik Ramu
Abhirup Chanda
Ashton Abbott
*** Addition April 16 Tennis, @Chuckey-Doak, 3:30 p.m.
Award winners announced at the end of year Tennis Banquet included: Jordan Havert, Lily Mefford who received All Conference, Best Singles and Best Doubles and Kaylee DeGennaro who received the Blue Devil Award for dedication, sportsmanship and team spirit.
Freshman, Lily Mefford and Jordan Havert both competed in the district tournament for doubles. They placed fourth in the district, and made it all the way to the semi-finals in the draw. Lily and Jordan were both all conference players for the season as well! Go, Bucs, Go!
Congratulations UH Tennis Co-op team members!

Results: Lily Mefford, Kaylee DeGennaro, and Abhirup Chanda won their flight. Sathvik Ramu was runner up in his flight.
---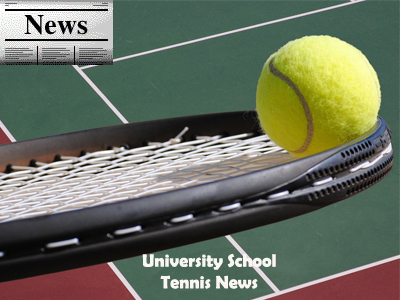 Congratulations to our University School Tennis co-op team on their victories.

The team defeated Sullivan East on Monday, March 22nd. Boys won 10-0 and girls 6-3. All the UH players won both their doubles and singles matches. It was a great start to the season!

The girls also beat Elizabethton on Wednesday, March 24th.

On Monday, March 29th, both boys and girls won. Lily, Jordan and Kaylee won singles and doubles. Abhi, Ashton, and Sathvik won their singles matches (didn't play doubles)

Love our swingin' Bucs!