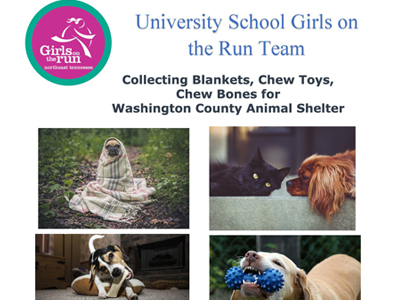 Our University School Girls on the Run team is choosing the Washington County Animal Shelter as the focus for their charity this season. We will be collecting new or gently used blankets, chew toys, or chew bones for the animals. You can bring these donations to school and place them in our box located outside the front office. We hope you are able to help us make this winter season a little brighter for these animals. Thanks for your support!
Support our University School Girls on the Run team at the Sunday Funday Girls on the Run 5K on Sunday, December 8! This is a family friendly 5K that will start and end at Thomas Stadium. Cheer teams will be placed along the course to cheer on the girls and 5K participants. Early registration ends November 19 to be guaranteed a race shirt and a discounted registration fee. The school with the most participants will win $1,000, so make sure you sign up under University School to help us win the School Challenge!
https://www.gotrnetn.org/5K-Detail#show-event-details


Name: Girls on the Run
Mission: To inspire girls to be joyful, healthy and confident using a fun, experience-based curriculum which creatively integrates running. Girls on the Run of Northeast Tennessee Website
Meetings: TBA
Sponsor: Ms. Andrea Lowery
Please note that enrollment in the program is voluntary and girls are selected on a first-come, first-serve basis. Payment must be received in order to secure your daughter's spot in the program.
Girls on the Run believes that every girl is inherently full of power and potential and our aim is for every girl to believe this about herself as well. Through the help of our selfless volunteers, Girls on the Run is changing the narrative about what it means to be a girl. Visit www.gotrnetn.org for more information about our council, mission, vision, and core values.