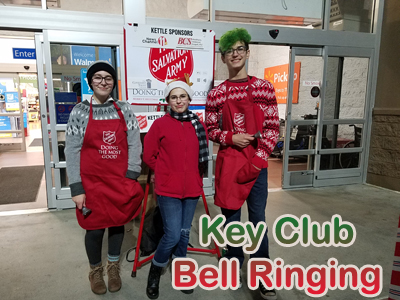 Big shout out to our Key Club members for their service to the Salvation Army, ringing bells and collecting donations. Caught them ringing this past weekend - great photo op!
Big shout out to our Key Club members for their service to the Salvation Army, ringing bells and collecting donations. Caught them ringing this past weekend - great photo op! Ms. Squibb sends out a big "Thank You!" to all of the students who have given their time this year to volunteer for community service. You are greatly appreciated for all you do!
---
Club Name: Key Club
Club Description: Key Club members are volunteers who raise funds for charitable organizations
Meeting Place: Room 011
Meeting / Announcements: Key Club meets on Wednesday afternoons as needed, at 3:05 p.m., in the Art Room. Thank you, Key Club members for your service to our community!
****** We will have our monthly meeting next Wednesday (February 19th), rather than today (Feb. 12th) as scheduled. No meeting today. Also, if you paid dues this year, Ms. Squibb has your membership cards and pins in her room. Please stop by Room 011. See you next week!
KEY CLUB MEETING DATES 2019-2020

Please note that I may call special meetings should the need arise

August 21
September 11
October 16
November 13
December TK (We will select a date for our Holiday Party)
January 15
February 19*****
March 4
April 15
May 13
Prerequisite for Membership: Open to all high school students
Sponsors: Ms. Sharon Squibb & Ms. Kimberly Summey

2019-2020 Officers:

President: Bliss Key
Vice President: Riane Olsen
Secretary: Isabelle Dunkelberger
Treasurer: Heather Roberston
Editor: Cayleigh Shaw

President:
Primary contact with club Sponsor
Work closely with Sponsor and officers to plan and organize volunteer events, set goals and outreach, form committees
Communicate with club members
Attend officers meetings
Help form club committees
Vice President:
Support the President
Help set goals and outreach
Attend officers meetings
Help with forming club committees
Help recruit new members
Secretary
Maintain records
Take club meeting minutes
Prepare monthly reports to be filed with district
Coordinate club correspondence
Editor
Communicate with the club members and the community
Document club service and programming
Manage the club bulletin board, posters and announcements
Produce a monthly newsletter
Treasurer
Help sponsor with club finances
Research causes for club donations
---
To University School Key Club Members and Families
Re: Membership Dues
Dear Students:
Congratulations! You have joined one of the most important youth organizations in the world!
Did you know?
Key Club is the oldest and largest service program for high school students. It is a student-led organization that teaches leadership through service to others. As members of the Kiwanis International family, Key Clubbers build themselves as they build their schools and communities. Key Club has approximately 260,000 members in approximately 5,000 clubs. Key Club is represented in 37 countries. We are part of District 7 in the Kentucky/Tennessee Region: https://www.keyclub.org/
University School Key Club is a service club chartered and sponsored by Johnson City Kiwanis Club, whose mission is dedicated to helping the youth of Johnson City, TN through a variety of activities and monetary contributions throughout the year. We help them with many of these efforts, including Salvation Army Bell Ringing, Socks & PJs clothing drive, pancake breakfast.
Each year before December 1st, in order to remain clubs in good standing, all chartered Key Clubs are expected to submit dues from each member in the amount of $14.00 (International and District dues are each $7.00). (Please see the attached fact sheet about how dues are used.) So that Kiwanis Club can use ALL of their money toward helping disadvantaged area youth, I do not wish to ask them for assistance with student dues.
For your dues, members receive an official registered membership in Key Club, which is part of Kiwanis Club International (I enter your name on the website), a membership card with your id number, a pin, and mailings. Even if you have already received your card and pin, your annual dues allow you to remain an official member of Key Club International, the largest youth service program in the world.
Let's do our best to get those dues in and help our membership grow! Please let me know if you have any questions. Any checks should be made out to University School Key Club.
Thank you.
Ms. Squibb, Club Sponsor
** Note. If you are unable to contribute dues, you may still participate in Key Club activities throughout the year, but I cannot officially register you with Kiwanis International and you will not receive membership cards and Key Club lapel pins (new members).
WHY ARE DUES IMPORTANT?
Many clubs and districts aren't able to provide the large-scale benefits and support that you get from Key Club International. By paying international-level dues to Key Club, the following crucial resources are available for all members, advisors and clubs:
Membership materials such as cards and Key Club pins (for new members)

Resources for club building, chartering and member recruitment

District and club officer training materials

Support for districts and divisions

Official Key Club website and social media accounts

Weekly updates to Key Club members and advisors

Key Club magazine (mailed to schools in September)

Convention planning

District and club awards

Liability insurance

From resources and grants to training, dues help you get the most memorab

le, fun

experience during your time in Key Club. Without paying dues club members are not eligible to go to DCON (District Convention)& ICON (International Convention) or run for office.
---
*The Key Club is sponsored by Johnson City Kiwanis Club

Key Club International Web Site Link
Principles of Key Club
Mission Statement
"Key Club is an international student-led organization which provides its members with opportunities to provide service, build character and develop leadership."
Vision
"To develop competent, capable, and caring leaders through the vehicle of service."
Core Values
The core values of Key Club International are leadership, character building, caring, and inclusiveness.
Motto
Caring Our Way of Life
Objects
To develop initiative and leadership.
To provide experience in living and working together.
To serve the school and community.
To cooperate with the school principal.
To prepare for useful citizenship.
To accept and promote the following ideals:
To give primacy to the human and spiritual, rather than to the material values of life.
To encourage the daily living of the Golden Rule in all human relationships.
To promote the adoption and application of higher standards in scholarship, sportsmanship, and social contacts.
To develop, by precept and example, a more intelligent, aggressive, and serviceable citizenship.
To provide a practical means to form enduring friendships, to render unselfish service, and to build better communities.
To cooperate in creating and maintaining that sound public opinion and high idealism which makes possible the increase of righteousness, justice, patriotism, and good will.
Ms. Squibb would like to thank all Key Club members who worked diligently to raise money for the Ronald McDonald House. We raised approximately $400! Ronald McDonald Houses are home environments providing support and resources that help keep families with sick children together and near the care and resources they need. Thanks University School family for supporting this worthy cause! Proud of our Generous Bucs!
We have colorful hand-made bracelets, key chains, lanyards, and other items made in the Philllipines for sale. The fund raiser is called "Threads of Hope".
Threads of Hope is a livelihood project initiated by Alex and Chris Kuhlow in March of 2003 to bring help and hope to families at risk in the Philippines. This outreach was launched from one simple act of compassion for a friend on a tropical beach there. An order for 1200 bracelets was made to provide a struggling family with a good source of income for an entire month. The artistry and effort that went into each piece was astounding. Since then, others have wanted to buy the bracelets to help the poor and the Kuhlows have partnered with multiple groups and individuals in their efforts to raise funds. 100% of the profits were used to employ other struggling families. As a result, Threads of Hope is now providing a steady income to 250 families, nearly 700 people and is striving to help more.
In 2011, University School Key Club partnered with Threads of Hope, Inc. and raised more than $1,200 for the families selling handmade bracelets. We want to initiate another fund raising effort this year and are selling a variety of handmade products, including round and flat bracelets, key chains, lanyards, book marks, eye wear cords ,and necklaces. These products range in price from only $2.00 to $8.00. The Threads of Hope foundation allows schools and others raising funds to keep one half of the proceeds from sales. This year Key Club will seek to donate our share of funds raised to local entities and charities, such as Johnson City Homeless Education Services, Second Harvest Food Bank, and others.
If you are interested in purchasing one of these beautiful handmade products, please contact Ms. Squibb. Key Club members will also be selling the items.